Bharat Bhushan Ashu lays foundation stone of roads to be constructed in Police Lines Ludhiana
Construction of new roads in Police Lines was a long pending demand: Ashu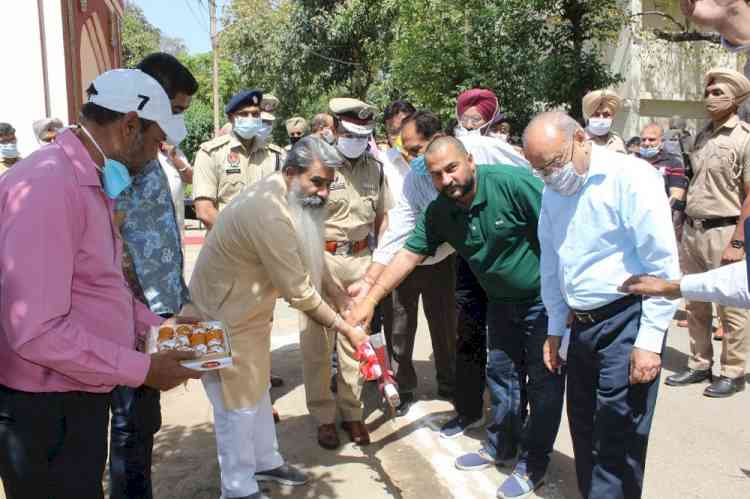 Ludhiana: Punjab Food, Civil Supplies & Consumer Affairs Minister Bharat Bhushan Ashu today laid the foundation stone of new roads in Police Lines, here. He was also accompanied by Mayor Balkar Singh Sandhu, area Councillor Sunny Bhalla, Commissioner of Police Rakesh Agrawal, MC Commissioner Pardeep Kumar Sabharwal, besides several others.
    It is pertinent to mention that all roads of Police Lines would be re-carpeted and interlocking tiles would be installed along these roads with a cost of Rs 1.39 crore.
    While speaking on the occasion, Bharat Bhushan Ashu said that Ludhiana Police has always worked hard for maintaining law and order in the city and were most active for distribution of ration and food packets to the needy during lockdown last year. He said that a large number of police personnel reside in Police Lines Ludhiana and all the roads required recarpeting. He said that to ensure that there is no water accumulation along the roads in Police Lines Ludhiana, proper water recharge wells and interlocking tiles would be installed. He assured that the project would be completed at the earliest.
    Commissioner of Police Rakesh Agrawal requested the Cabinet Minister to direct the Municipal Corporation Ludhiana for providing 6-acre chunk of land in the city so that a new Police Lines can be developed there.
    Mayor Balkar Singh Sandhu promised the Commissioner of Police that the land would be provided by MC Ludhiana. He said that he would direct the MC officials for finding suitable land for developing new police lines in Ludhiana.
    MC Councillor Sunny Bhalla assured that best quality work would be carried out in the Police Lines and urged the residents to also keep a close watch on the construction work.
    Rakesh Agrawal thanked Bharat Bhushan Ashu and other prominent personalities present in the function for always providing full support to the Police force.