Bharat Bhushan Ashu launches Punjab Smart Connect Scheme in District Ludhiana
Hands over phones to 10 class XII Students in symbolic gesture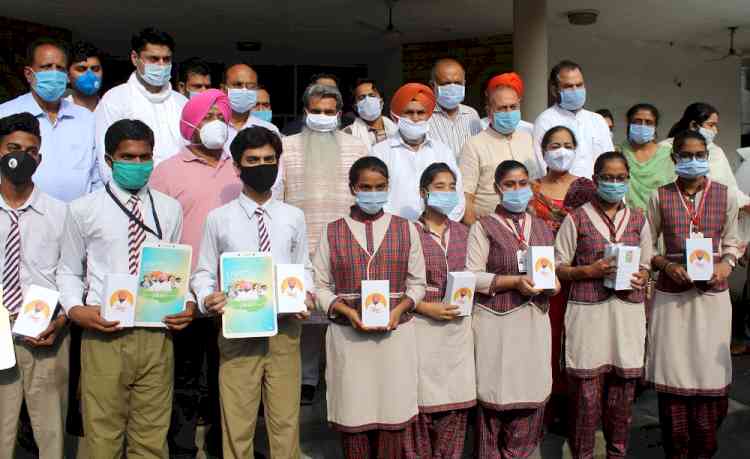 Ludhiana: Punjab Food, Civil Supplies & Consumer Affairs Minister Mr Bharat Bhushan Ashu today launched the "Punjab Smart Connect Scheme" in district Ludhiana by handing over smart phones to 10 Class XII students in a symbolic gesture. It is pertinent to mention that Punjab on Wednesday took a major digital leap forward with the state-wide launch of its Rs 92 crore `Punjab Smart Connect Scheme' by Chief Minister Captain Amarinder Singh, who personally handed over smart phones to six Class XII students.

He was also accompanied by MLAs Mr Surinder Dawar and Mr Kuldip Singh Vaid, Mayor Mr Balkar Singh Sandhu, Deputy Commissioner Mr Varinder Kumar Sharma, Ludhiana Improvement Trust Chairman Mr Raman Balasubramaniam, District Planning Board Chairman Mr Malkit Singh Dakha, Punjab Youth Development Board Chairman Mr Sukhwinder Singh Bindra, besides others.

While speaking on the occasion, Mr Ashu said that on the auspicious occasion of Janmashtami and International Youth Day, this development marks the launch of the scheme, which marked the fulfilment of another major poll promise of the Congress government in the state. He said that 16677 students of class XII studying in 188 senior secondary schools of district Ludhiana would be benefited under this scheme in the first phase. He said that these students include 8179 boys and 8498 girls.

He said that the scheme, for which Rs 100 crore was allocated in the state budget for 2017-18, is benefitting a total of 174015 Class XII students of government schools of Punjab in the first phase, to be completed by November 2020. Of these, 87395 are boys and 86620 girls, with majority in the OBC and SC/ST categories – thus bridging a major divide that was obstructing these students from affordable access to online/digital education. While 36555 beneficiaries are OBC students, 94832 are SC and 13 ST students. The bulk of the students – 111857, are from rural areas, and the remaining in urban government schools.
He said that the Smart Phones would provide global connectivity and empower the poor youth who could not afford them. He said that in the present pandemic situation, these phones had assumed a bigger importance as they had become a necessity for education continuity. It was the money of the people of Punjab which the Punjab government was spending on advancement of the youth, he said, adding that the phones were planned to be distribute in March but the process got delayed due to the Covid crisis.

Mr Bharat Bhushan Ashu said that he wanted Punjab's students to be abreast with the latest technology which they can use effectively for their education, which leverages technology in a big way today. Gone are the days of chalks and boards, he said, adding that the Government schools, which had seen a major transformation over the past couple of years, needed to be supported through technological initiatives by the state government.

The smart phone being distributed under the scheme was a good functional phone, which also looks smart, he said, adding that it will become a major tool for the education of the students. 

Miss Parneet Kaur, Miss Harpreet Kaur, Miss Simrandeep Kaur, Miss Khushi Rawat and Miss Jaspreet Kaur from Shaheed-E-Azam Sukhdev Thapar Government Girls Senior Secondary School and Mr Sachin Kumar, Mr Vaneet, Mr Arvind, Mr Amit and Mr Arvind Kumar from Government Senior Secondary School, Jawahar Nagar, said the smart phones they received from Mr Bharat Bhushan Ashu today would provide them with the much-needed access to online education in these difficult Covid times.

Prominent among those present on the occasion included Senior Congress leaders Mr Karanjit Singh Soni Galib, Mr Ashwani Sharma, Mrs Satwinder Kaur, ADC (General) Mr Amarjit Bains, SDM (West) Mr Amrinder Singh Malhi, DEO (Secondary) Mrs Swaranjit Kaur, besides several others.