Bhangra World Cup begins in Lyallpur Khalsa College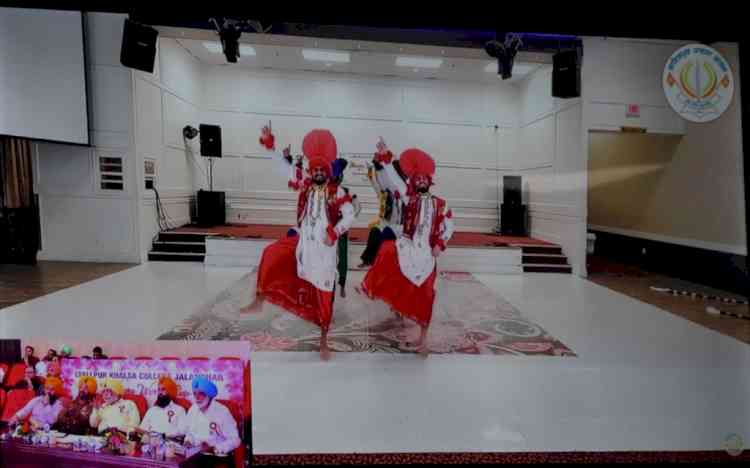 Jalandhar, October 24, 2021: The Bhangra World Cup organised by Lyallpur Khalsa College began on Saturday with spirit of zeal and festivity.  Dedicated to the memory of Dr. Inderjit Singh, the event was inaugurated by the chief guest Harkanwal Preet Singh SSP Kapurthala and AIG Counter Intelligence Jalandhar zone. 
Welcoming the guests, the college president Balbir Kaur said that organizing this event was an attempt to preserve and strengthen cultural heritage of Punjab and it had become possible with the active participation of Punjabi living across the globe. 
Speaking on the occasion, the College Principal Dr. Gurpinder Singh Samra that that the first day of Bhangra World Cup witnessed online competitions in three categories in which around 15 teams from Canada, Italy , Ireland, Hong Kong, Australia were participating which included Shah E Punjab Arts Club Vancouver Canada, Bhangra Boys & Girls (only girls) Italy, Trinjana Ireland, Rangla Punjab Arts Academy Surrey Canada, Funjabi Bhangra Hong Kong, Shamrock Bhangra Ireland, Bhangra Boys & Girls Folk Bhangra Academy Italy, Punjabi Folk Dance Academy Edmonton Canada, Rooh Punjab Dee Bhangra Academy Adelaide Australia, Bhangra Kingz Youth Welfare Club Punjab, Fitbit Bhangra Brisbane Australia, Folk Art Lover Academy Chandigarh Punjab, Bhangra Roots Australia, RPD Sydeny (Seniors) Australia and Surrey Punjabi Arts Academy (Seniors) Surrey Canada. Dr Samra also informed that on 24th October offline competitions of Indian teams would be held, the live telecast of which would be shown on different platforms. 
The Judgement Panel on the occasion  comprised of Dr. Rashpal Singh Gill, S. Jasbir Singh Pannu, S. Sukhjinder Singh Brar, S. Harwinder Singh Khalara and S. Pritpal Singh who adjudged Punjab Folk Dance Academy (PFDA), Edmonton, Canada, Shan-E Punjab Arts Club, Vancouver, Canada and Funjabi Bhangra Ireland as first, second and third position winners in C1 category respectively. The first position winners in C1 category were given a prize of Rs. 1,01,000/-, whereas prizes of Rs. 51,000/- and 21,000/- were given to second and third position winners respectively. Sukhpreet Singh of Shan-e-Punjab Arts Club, Vancouver, Canada was declared best dancer, whereas second and third positions went to Arshpreet Kaur, Punjabi Folk Dance Academy Edmonton, Canada and Harpreet Singh Shamrock Bhangra Club Ireland. The live telecast of the cup was shown on YouTube channels of the college along with TV channels such as BBC Punjabi, 5aab TV, V24, Global News, Plus TV, Punjab1 TV the vote of the thanks was given by Prof. Jasreen Kaur, Dean Academic Affairs whereas the stage was conducted by Dr. Surinderpal Mand and Dr. Upma Arora. 
The occasion witnessed the presence of S. Jaspal Singh Waraich Joint Secretary, Governing council, Dr. Palwinder Singh Dean Cultural Affairs and staff and students of the college.