Battle Honour Day of 2 Sikh Regt celebrated at Maharaja Ranjit Singh War Museum
Lt Gen T S Shergill, Senior Advisor to Chief Minister Punjab laid wreath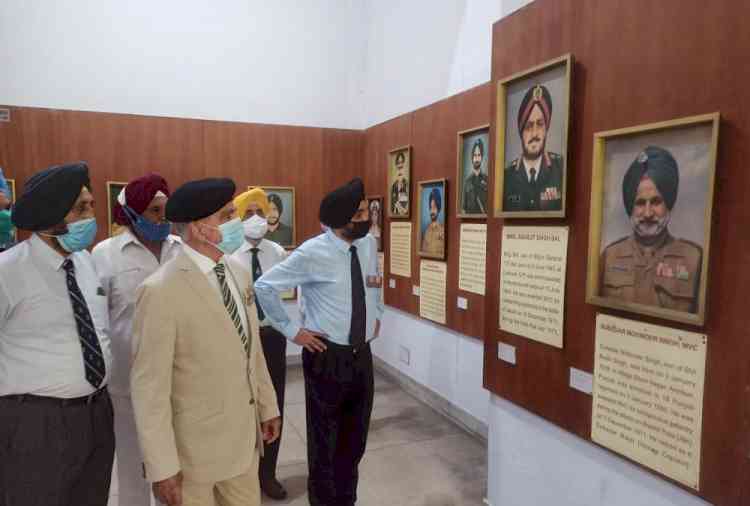 Ludhiana: The Battle Honour Day of 2 Sikh Regiment was celebrated at 2 Sikh War Memorial located at Maharaja Ranjit Singh War Museum, Ludhiana today. Lt Gen T S Shergill, Senior Advisor to Chief Minister Punjab laid the wreath on behalf of Capt Amarinder Singh, Chief Minister Punjab. DCP Mr Elenchezhian, SDM Mr Amarinder Singh Malhi, Officers from 2 Sikh Regiment and a selected a few retired officers from Army, Navy and Air Force came over to grace the occasion.

Disclosing this here, Lt. Gen. TS Shergill said that the country was proud that while thousands of patriots had sacrificed their lives for the liberation of the country, many veterans had sacrificed their lives for the preservation of this freedom.  He said that every Army officer and a jawan of the country today was determined to uphold this independent status of the country.
Regarding the claims made by China and Pakistan from time to time on various parts of India, he clarified that all the territories claimed by these neighbouring countries belong to India and our country has not even an inch of territory to leave for any other country.  He said that the Indian Army was capable of protecting the borders of the country.

It is worth noting that Col Anup Singh Dharni was part of the Regiment, Who fought 1965 war and captured Raja Picquet. Battle Honour Day is celebrated to mark the day of victory. At this time he disclosed the many facts about the battle.
The prominent among these officers were Lt Gen A K Sharma, Brig Satinder Singh (Director Defence Services Welfare Punjab), Brig GJ Singh, Col TS Kalra, Col Anup Singh Dharni, Col HS Kahlon, Gp Capt Gurpreet Singh Mangat and Cdr Baljinder Virk (District Defence Services Welfare Officer, Ludhiana), OSD to Senior Advisor  Mr Karanvir Singh.