Bangalore's renowned Vivekananda Health Global soon at Chandigarh
Forest Hill Resort collaborates with Vivekananda Health Global in Chandigarh, to open center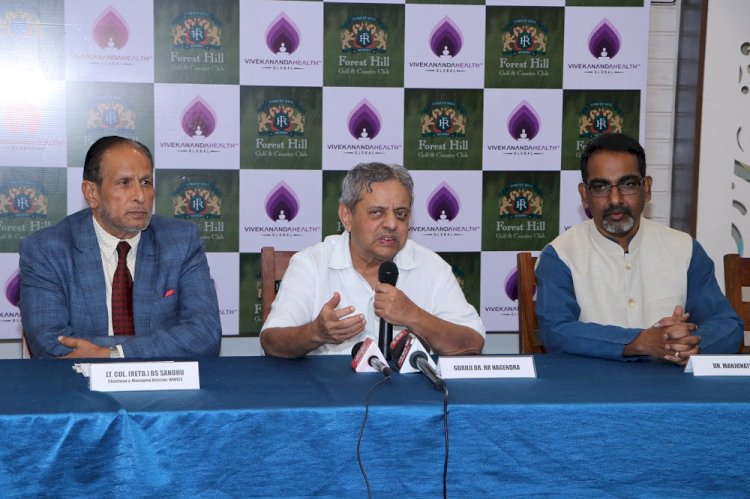 Chandigarh: In response to the growing demand for integrated health & wellness services, one of North India's finest luxury resorts Forest Hill Golf & Country Club signed an agreement on 28 February, 2020 with Vivekananda Health Global, Bengaluru. Vivekananda health Global is an initiative of Vyasa Health Care which is an industry partner of VYASA (Vivekananda Yoga Anusandhana Samsthana), Bengaluru. Vivekananda Health Global (VHG) is the first international chain of integrative medicine centers across India and abroad, promoting the integration of Indian systems of medicine - Ayurveda, Yoga and Naturopathy along with conventional medicine. They believe in complementing tradition with science.
Dr. H R Nagendra, Chancellor, SVYASA and President of VYASA is widely recognized across the world as a 'Scientist turned Yoga Guru'. He is a visionary, scientist, educationist and a spiritual master. The Government of India awarded him the fourth highest civilian honour of the Padma Shri, in 2016. He has the distinction of starting the first-ever Yoga University (S-VYASA) at Bengaluru, India, as well as Vivekananda Yoga University (VAYU) at California, USA. He has contributed extensively to Yoga Research, Therapy and Education for over four decades. Evidence based Integrative medicine is one of his global initiatives and the new VHG center in Chandigarh is will bring in the expertise from Bengaluru for northern India.
The agreement was signed by Lt. Col. (Retd.) B.S. Sandhu, Chairman & Managing Director, WWICS Group of Companies andDr. Vasudha M Sharma, Managing Director of Vyasa Health Care at a ceremony in the Club House of Forest Hill Resort. The ceremony was blessed by the presence of Dr.HR Nagendra and was supported by a senior member of SVYASA, Dr. Manjunath NK, who is the Director research and a very well-known person in the field.
Through the addition of VHG at Mohali, Punjab, Forest Hill Resort and Vivekananda Health Global envision to cater to preventive health care, disease management and rehabilitation in the area. The aim is to bring in traditional diagnosis and most appropriate treatment modalities which would lead to quick relief, long term management, adaptable lifestyle modification, and notional correction.
The Vivekananda Global Health center is an embodiment of wellness clinics targeting specific ailments. All diagnoses are based upon the classic Ayurveda-based pulse diagnosis (NadiPariksha), personality typing (Prakrithi Analysis) and other traditional methods combined with best of the modern methods. It has pain clinic for treating headaches, arthritis, back, neck and knee pain, abdominal pain, pelvic pain including renal stone, menstrual pain, endometriosis and vascular pain. Similarly, stress clinic treats high blood pressure, diabetes, depression or anxiety, insomnia, bronchial asthma and lowered immunity. Center has Obesity Clinic dealing with obesity linked disorders including diabetes, hypertension, coronary artery disease, hypothyroidism and sleep apnea. It also treats infertility problem at its infertility clinic including both male and female infertility and also has exclusive women health clinic, hair and skin clinic, children's clinic, geriatric clinic and Lifestyle Clinic. It also has rehabilitation clinic for disability, handicap and to improve functional independence in people.
The facilities will include well designed infrastructure to host 100 participants and shall be taken up in phases.  The traditional panchakarma based Ayurveda treatments will be provided at Ayurkuteer, Classical Yoga and therapy sessions at Yogadhama, Specialised Acupuncture center under pain clinic, Naturopathy treatments under Nisargadhama  and health shoppe which includes pharmacy. The center will also host Certification programs of Yoga such as Yoga instructors course' for those who are looking for a solid foundation in Yoga and its applications.
Speaking at the Signing Ceremony, Lt. Col. (Retd.) B.S. Sandhu, CMD, WWICS Group of Companies & Forest Hill Resort expressed his great honor to associate with Vivekananda Health Global. "Forest Hill Resort always aims to deliver a range of services to address the needs of the individuals. To keep our legacy forward, in association with VHG, we are coming up with Forest Hill Health &Wellness Center - an integrated wellness solution to help our esteemed visitors/residents live in a healthy atmosphere", he said while addressing gathering.
Speaking at the ceremony, Dr HR Nagendra said that in today's world the biggest challenge is to recover from an ailment with an unscathed immune system. "The modern medicines take toll on immune system of an individual. At the Vivekananda Global Health centre, patients are healed naturally with an integrated approach that also strengthens immune system and gives better mental health. Patients are treated with custom-made programs based on Ayurveda, Yoga, Naturopathy, Acupuncture and Aromatherapy," he said.
Besides offering treatments, the Chandigarh center also will offer a number of certification programs such as Yoga instructors' short term course for those who are looking for a solid foundation in Yoga therapy and its applications. The center will also comprise of a health shop, where all nature-based organic food products, Skin care products, Hair care products, Nutritional supplements, Pain relievers, Aroma oils as well as Yoga accessories and Books will be readily available to shop.
One of North India's finest luxury resorts - Forest Hill Resort has established an unparalleled stronghold in the hospitality industry by offering exceptional services and resort living experience. It is an ideal spot not only for golfers but also for adventurers, photographers and nature lovers. As a nature resort, FHR takes proactive efforts to preserve the environment & its resources that include use of local and sustainable building materials, solar energy techniques, energy-efficient lighting and appliances, water harvesting to green grounds keeping and laundry practices.