Awareness camp organised by LOGS and CMC Hospital 
Event held at Police Lines, Ludhiana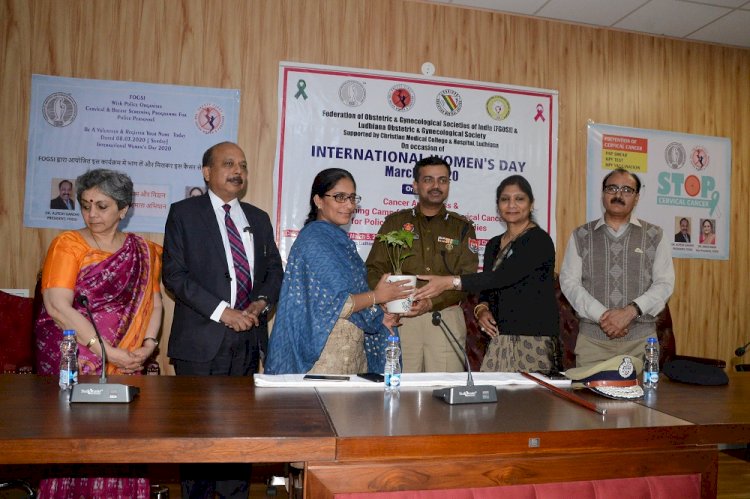 Ludhiana: FOGSI is a federation of 259 Obstetrics and Gynaecological Societies in India and one of the largest membership-based organizations of specialized medical professionals across the world. All societies of FOGSI join hands together for the upliftment of women's healthcare in India. 
Cancer is one of the main killers worldwide. As we are aware that in women, breast cancer is the most common cancer; 1 out of 4 of all new cancer cases diagnosed in women worldwide is breast cancer. (GLOBOCON, 2018).  Approximately more than 70000 women die because of breast cancer in India every year. Most of them are in the reproductive age group. When cervical cancer is detected and managed at the early stage, it has over 93% cure rate. Breast cancer is detectable with regular self-breast examination, sonography & mammography. Cervical cancer is a deadly but fortunately preventable disease with vaccination & screenings. Looking at this huge public health problem which is completely preventable, it is our moral responsibility as health care providers to carry forward the call of WHO and FIGO for eliminating cervical cancer by 2030.
Policemen, CRPF and our army are working untiredly for 24 x 7 x 365 days in extreme conditions to serve the people of our country. We appreciate and respect their dedication, selfless commitment and great service to our country. 
So, on this coming International women's Day, 8th March, Ludhiana Obstetrics and gynaecology supported by Christian Medical College and Hospital Ludhiana has planned to organize cervical and breast cancer screening camps for the female police and CRPF staff and female members of Police and CRPF department at CMC Hospital and Baddowal cantonment. Targeted patients for screening are female police, females of police families and CRPF families, between 30 - 65 years of age across India. The time for the screening camps for breast and cervical cancer will be from 9.00 am to 3.00 pm on 8th March, 2020, International women's day.
Patients of reproductive age will be screened with VIA method and perimenopausal women with pap smear tests. Patients with suspicious or positive reports will be advised accordingly. 
In this regard, the organisers communicated and requested ADGP Punjab Mr. Arpit Shukla, CRPF head and Police commissioners who were all very supportive. An awareness camp was organised by LOGS and CMC Hospital Ludhiana at police lines on 5th March 2020. The event was graced by Police commissioner Ludhiana Mr Rakesh Agarwal, Civil Surgeon Mr.  Bagga, Mrs Mamta Ashu, Mr SP Singh , DFLO , Dr William Bhatti Director CMC , Dr Bharti Uppal, Associate Medical Superintendent , CMC . Mrs Mamta Ashu spoke to the participants on the need to spread awareness not only on health issues but also to give parental guidance to our children who are the future of this country. The need for spending meaningful time with children so that they get proper guidance and do not fall prey to bad habits. Mr Bagga appreciated work of the police force and doctors who are on emergency duties day and night and stressed the need to spend time on health and regular check-ups. 
The awareness camp was organised by the President of LOGS Dr Vidhu Modgil, Head of OB Gynae department CMC, Dr Kavita Bhatti, LOG members Dr Devinder, Dr Geetanjali, Dr Manu Singla, doctors and staff of CMCH Ludhiana. There were almost 100 participants in the awareness camp. 
The awareness camp stressed on learning how to do a self-examination of breasts, vaccination against cervical cancer and screening protocols. We should all join together to fight against these preventable cancers of women and to achieve sustainable development goals (SDG) for our country. Let us work together for the upliftment of women's health care in India.