Author Aastha Kulshreshtha's new book unveiled at Gurugram
This anthology of 80 poems is set in varied backgrounds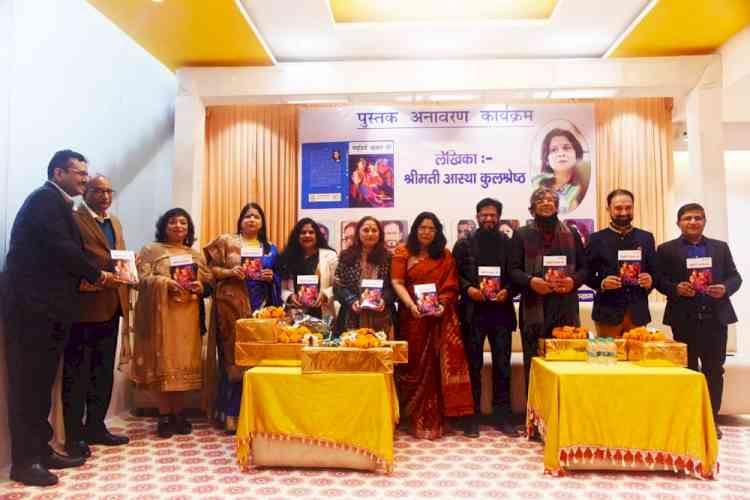 Author Aastha Kulshreshtha's new book being unveiled at Gurugram.
Gurugram:  Author Aastha Kulshreshtha's new book titled 'Pankhudiyan Ehsaas Ki' was unveiled at a private hotel in Gurugram. The ceremony witnessed the august presence of noted writers, including Mr. Laxmishankar Bajpai, Mr. Niwas Tyagi, Mr.  Rajendra  Nigam, Mrs. Indu Raj Nigam, Dr. Chetan Anand, Mrs. Mamta  Kiran and Dr. Savita Upadhyay. The ceremony kickstarted with  a recitation of the poem 'Papiha.'
On the occasion, Mr. Laxmishankar Bajpai said: "Aastha Kulshreshtha is a promising writer. Her poem 'Dhaga' decodes the intricacies of relationships through characterization and euphemism."
Dr. Savita Upadhyay said: "This anthology of 80 poems is set in varied backgrounds. Aastha's style of writing sets it apart from the rest. The poem 'Ehsaas' delves deep into the agony and pain of losing a mother."
Dr. Shrinivas was of the view that Aastha's writings resonate with her personalized touch and portray an apt description of the family, home and society.
Dr. Chetan Anand, Founder Dev Prabha Prakashan & author, opined: "Aastha's writings embody realism and convey human feelings.
Mr. Rajendra Nigam termed Aastha's writing as interesting', while poetess Indu Raj Nigam described it as the mirror of realism.
Mrs.  Mamta Kiran said that Aastha's writings entwine the antiquity and modern environment, especially 'Ma', 'Jeevan Sathi' and 'Betiyaan.' She also commended the organizers for the ceremony
The ceremony concluded with a vote of thanks by Abhishek Kulshreshtha.