Attempt for record of maximum types of phirni at GNA University
The project started with the plan to make around 550 to 600 variations of Phirni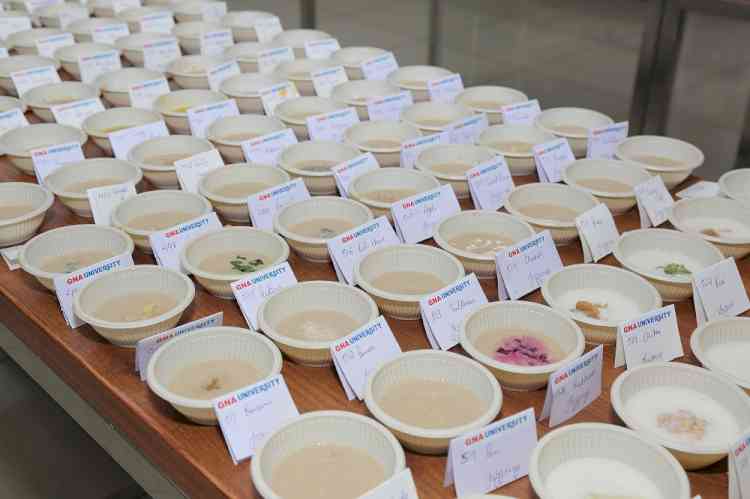 Jalandhar: GNA University has attempted to set a record of preparing maximum types of Phirni. Faculty of Hospitality as always took this innovative initiative. Dean Faculty of Hospitality Dr Chef P.R. Sandilyan along with 3 faculty chefs named Chef Dhiraj Pathak, Chef Manjinder Singh and Chef Tarunveer Singh and ten Student chefs also accompanied and supported the gala attempt.
The project started with the plan to make around 550 to 600 variations of Phirni, As the available ingredients and flavourings were received the chefs started making variations and combination using the available ingredients and reached 851 varieties of Phirni. The chefs worked with 6 types of Sweeteners and 131 types of flavourings.
On the completion of the event Dr Chef P.R. Sandilyan, Dean, Faculty of Hospitality, GNA University congratulated all the participating members for the weeklong efforts to put on this event and finally accomplishing it with full zeal and unflinching fervour.
Ms. Meenu Gupta, Principal, Government Senior Secondary School (Girls), Phagwara and Mr. Gursharan Singh, Government Senior Secondary School, Jagatpur Jattan joined the Event as a Verifier and Witnessed the event. They were very happy and congratulated the faculty and the University for the wonderful attempt.
S. Gurdeep Singh Sihra, the Pro-chancellor GNA University, Prof. V.K. Rattan, the Vice-Chancellor, GNA University, Dr. R.K. Mahajan, Registrar GNA University, Dr. Monika Hanspal, Dean Academics, Mr. Sameer Verma, Dean Student's Welfare and Ms. Shweta, Depurty Registrar Establishment also experienced the event and congratulated all the Faculty and Students for their strenuous efforts in putting up an exquisite display of phirnis. 
S. Gurdeep Singh Sihra, the Pro-chancellor GNA University expressed, "Persistent endeavours of the Hospitality department has always been a mark of great pride. I appreciate the out of box thinking in preparing dainty variety of phirnis."