ASSOCHAM highlights Export opportunities in Sharjah, UAE  
Opportunity for Ludhiana businesses to connect to the global market through Sharjah Airport International Free (SAIF) Zone Pay only Rs 2 lakh and open your office in SAIF zone; Special Incentives for Women entrepreneurs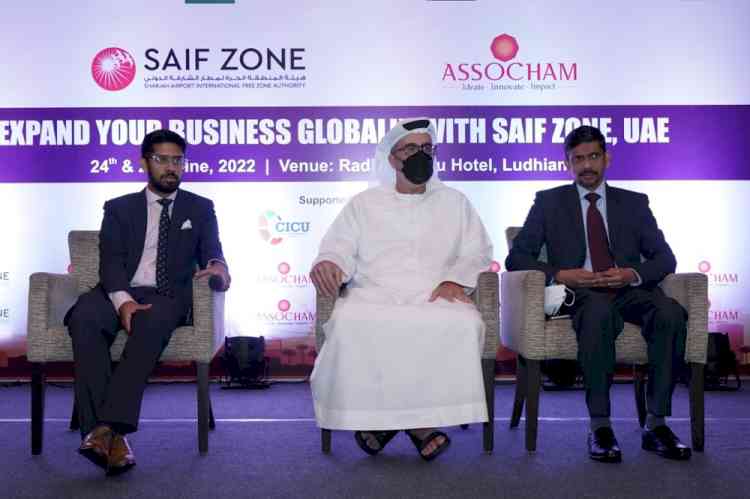 (L to R) Vishnu Sunil, SAIF Zone_ H.E Raed Bukhatir, Director-Marketing and Business Relations, SAIF Zone, Govt. of Sharjah, UAE P. Rajiwan, Team Leader, SAIF at the interactive session.
Ludhiana, June 24, 2022: Under the recently signed 'Comprehensive Economic Partnership Agreement' between India and the United Arab Emirates (UAE), it has been agreed to reduce or eliminate import duty on most of the goods being exported from India to the UAE. In line with this, The Associated Chambers of Commerce and Industry of India (ASSOCHAM) in association with "Sharjah Airport International Free (SAIF) Zone, Govt. of Sharjah, UAE" organized an interactive session in Ludhiana to discuss the business opportunities in UAE for Indian enterprises and also the benefits of setting up business in SAIF Zone. The session was supported by Chamber of Industrial & Commercial Undertakings and Knitwear and Textile Club and was attended by more than 100 companies
H.E. Mr. Raed Al Bukhatir Director, SAIF Zone provided a brief overview of how Sharjah is today an emerging trading hub that offers unique logistical advantage via superb land, sea and air links and business community from Ludhiana can benefit by doing business from the SAIF Zone. "Nearly 60 percent of our investors in SAIF Zone are from India," he said.
Raed Al Bukhatir noted while addressing the session, "Sharjah is the industrial backbone of the UAE and establishments in SAIF Zone enjoy many exemptions." It is to be noted that SAIF Zone offers zero tax, 100% ownership, preferential customs duty rates, and 100% import-and-export tax exemption. 
He further added that SAIF Zone offers special customized incentive packages for Women entrepreneurs, for setting up business in SAIF Zone. 
Explaining the concept of Free Trade Zones in the UAE, Vishnu Sunil, from SAIF Zone, highlighted that establishing a business entity in SAIF Zone can be extremely attractive for Indian companies. Ludhiana based industries can leverage the UAE, particularly Sharjah SAIF Zone as a re-export base for Africa and Europe. By paying only Rs 2 lakh, any company can open an office in the SAIF zone, which includes one year rent, electricity, water, all permissions and visa of three people.
Vijay Garg, Chairman, Punjab State Development Council, ASSOCHAM, said, "There is very little awareness in India about the free trade zones in the UAE, especially among MSMEs. This is one of the reasons why we have chosen Ludhiana to host our event so that we can create awareness among the industrialists and also provide support towards expanding business on the global level."
Charanjiv Singh, General Secretary, Knitwear and Textile Club, said that the UAE market has good demand for textiles products. The Indian textile and apparel industry is going to benefit through India-UAE CEPA as now India will not face 5 per cent duty on textiles and garments.
Upkar Singh Ahuja, President, Chamber of Industrial and Commercial Undertakings, reflected that India's  bilateral trade with the UAE is expected to surpass $ 60 billion in the current financial year. India is the UAE's number one trading partner for non-oil exports, accounting for nearly 14 per cent of the Emirate's non-oil exports.
Iqbal Cheema, Co-Chairman, Punjab State Development Council, ASSOCHAM, in his closing remarks, said: "This is the right time to set up your business abroad and it is very difficult to find the kind of facilities being provided in the SAIF zone anywhere else."