#AskCaptain: Integrated manufacturing cluster project to be established in Ghanour
Will provide employment to youths besides strengthening of economy: Punjab CM Captain Amarinder Singh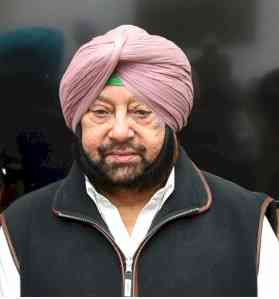 Punjab Chief Minister Captain Amarinder Singh.
Patiala: Punjab Chief Minister Captain Amarinder Singh said that Integrated Manufacturing Cluster (IMC) to be developed in Ghanour constituency of Patiala district covering about 1100 acres would not only strengthen the economy of Punjab but also help the youth of the state to bail out them from unemployment. This initiative would provide employment opportunities to thousands of young people in the area.
The Chief Minister was responding to a question posed by Kamal Sharma, a resident of Ward No. 5, Ghanour constituency, Patiala, during  the 10th edition of special Facebook live program '#AskCaptain'.
Kamal Sharma had asked what would be the benefit of this project being constructed by Punjab Government's Invest Punjab in Ghanour constituency at a cost of about Rs. 1600 crore to the people of the area and especially the youth and what type of industries would come up here.
Similarly, Responding to another query posed by Rajpura resident Gurpreet Singh Saini, the grandson of NDA instructor  N/Sub Harbans Singh that the latter remembers him fondly and wants to meet him, the Chief Minister said "if he can travel please bring him here." "One can't forget old friends and brothers in uniform can never be forgotten," he said, adding that once you wear the uniform, you become friends for life. Captain Amarinder Singh said that he will look forward to meeting his former NDA instructor. 
Meanwhile Captain Amarinder Singh said that these four Integrated Manufacturing Cluster Projects to be set up on Amritsar-Kolkata route would help in accelerating the pace of industrialization for the economic growth of the state and ensuring massive employment growth in the area as well.  He said that state of the art industries of the world would come here, which would provide employment opportunities to thousands of youth in Patiala and Fatehgarh Sahib districts.
The Integrated Manufacturing Cluster (IMC) to be set up at Ghanour constituency on 1100 acres of Government and Panchayat land with the help of National Industrial Corridor Development Corporation, was approved during the recent  meeting of the Punjab Cabinet. Simultaneously similar projects would be set up at Ludhiana, Bathinda and Fatehgarh Sahib.
The Chief Minister said that out of the total 1102 acres of Panchayat land for this project to be set up to strengthen the economy and employment potential of the state, 492 acres belonged to village Sehra, 202 to Sehri, 183 to Akrri, 177 to Pubbran and 48 acres to village Takhtu Majra.
It may be mentioned here that this important project would be set up in the hope of meeting the urgent need for development of industrial / economic centers in the state and would also cater to the needs of potential entrepreneurs/ industrialists to set up their projects expeditiously.
During his Facebook Live program, Captain Amarinder Singh also appealed to the people of Punjab to support Mission Fateh by taking precautions of social distancing, wearing masks and frequent hand washing to stop further spread of  COVID-19 pandemic.
 
AKALI PARTY LIKE A RUBBER BAND-IT KEEPS EXPANDING & CONTRACTING: CAPT AMARINDER SINGH
Ludhiana: In response to a question by Mr Jaskaran Singh of Raikot during #AskCaptain Facebook live session, as to whether the recently established Shiromani Akali Dal (SAD) of Sukhdev Singh Dhindsa was a Congress game plan, Chief Minister Capt Amarinder Singh said that what happens in the Akali party "is not our job."
"They keep fighting…..history shows that they keep getting divided. There is nothing new in it. At one point of time there were seven Akali Dal's. The Akali party is like a rubber band - it keeps expanding and contracting ," he quipped, adding that these kind of things are normal in their party. "If Dhindsa could not stay with them after being part of SAD his entire life, what can one say," remarked Captain Amarinder, adding that the beauty of democracy was that one can align with any party any time. 
While he welcomes as many political parties as want to join the political bandwagon, the Chief Minister said he was against any party whose main intent is to disturb the state's peace.
On a point raised by Mr Satish Kumar, a resident of Khanna, regarding PSEB board certificate not recognised for international studies in some countries like Australia, Captain Amarinder said he will take up the issue with the Australian Government and urge them to give due recognition to PSEB school degree for facilitating higher education degree from their country.
Responding to the query of Mr. Amarpal Singh from Ludhiana regarding increasing the recruitment age limit of DSPs and Sub-Inspectors from 28 to 32 years, the Chief Minister said that the official announcement of the increase in recruitment age from 28 years to 32 for DSPs & Sub Inspectors will be made in the coming days and wished him all the best for his preparation.