Ashu lays foundation stone of upgrading mother and child hospital from 100 to 200 beds
Work to be completed in 15-months at the cost of Rs 15 crore –Cabinet Minister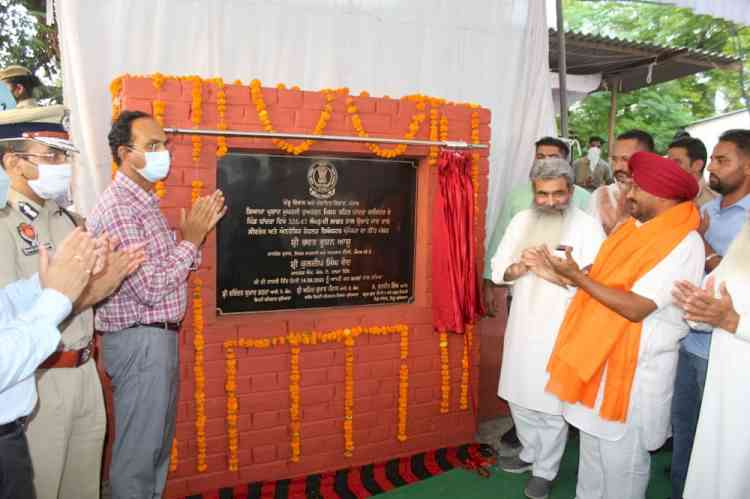 Ludhiana, Aug 12: In a major gift to the people of the district on the eve of 75th Independence Day, the Food, Civil Supplies and Consumer Affairs Minister Bharat Bhushan Ashu on Saturday laid the foundation stone of upgrading the existing Mother and Child Hospital from 100 to 200 beds at precincts of Lord Mahavira Civil Hospital.
Accompanied by MLAs Surinder Kumar Dawar and Kuldeep Singh Vaid, Deputy Commissioner Varinder Kumar Sharma, Commissioner of Police Rakesh Agrawal, Ashu said that up-gradation work would be completed in the next 15-months and the state government would spend Rs 15 crore. 
He said that the new mother and child hospital would have six blocks in its two-floor building and would consist of facilities operation theatres, isolation wards, ultrasound rooms, private rooms, separate outpatient departments (OPD) of gynaecology and paediatrics, a general ward, offices and rooms for doctors, staff nurses, separate bathrooms, a canteen and waiting areas.
He said that the addition of new 100 beds, would ensure better and high-quality health services to pregnant women residing in the city especially belonging poor section of the society. He added once completes, this new block would prove to be instrumental for the heavy influx of patients efficaciously.
The Cabinet Minister told that this was urgent need of upgrading these services to cater for the needs of the people and claimed that the directions have been issued to the officials to supervise the construction work regularly to ensure timely completion.
Later, he also took a round of the newly setup PSA Oxygen plant in the premises and physically inaugurated the Paediatrics ICU for children.
Prominent among those present on the occasion included Civil Surgeon Dr Kiran Gill, SMO Dr Amarjit Kaur, PHSC SDO Gurpinder Singh Sandhu, besides several others.