Ashu launches scheme for allotment of fair price shops under 'ghar ghar rozgar te karobaar mission' in District Ludhiana
Says, 460 fair price shops to be allotted in district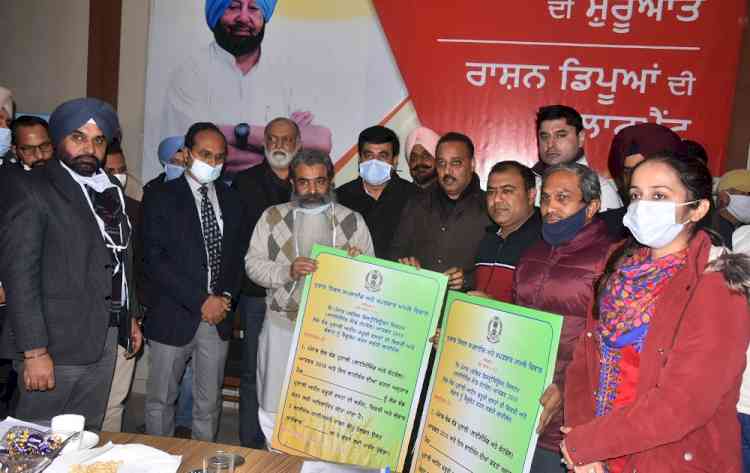 Ludhiana: Punjab Food, Civil Supplies & Consumer Affairs Minister Mr Bharat Bhushan Ashu today launched a scheme for allotment of Fair Price Shops (FPS) under Punjab government's flagship programme 'Ghar Ghar Rozgar te Karobaar Mission' in district Ludhiana. He informed that 7,219 FPS would be allotted in the state, out of which 460 would be in district Ludhiana.
A district-level function in this regard was organised at Bachat Bhawan, here today, where Mr Bharat Bhushan Ashu handed over appointment letters to 15 such beneficiaries.
MLAs Mr Surinder Dawar and Mr Sanjay Talwar, Political Secretary to CM Capt Sandeep Singh Sandhu, Punjab Youth Development Board Chairman Mr Sukhwinder Singh Bindra, PMIDB Chairman Mr Amarjit Singh Tikka, Backfinco Vice Chairman Mr Mohd Gulab, Ludhiana Improvement Trust Chairman Mr Raman Balasubramaniam, District Congress Committee Ludhiana (Urban) President Mr Ashwani Sharma, DCC Ludhiana (Rural) President Mr Karanjit Singh Galib, Deputy Commissioner Mr Varinder Kumar Sharma, ADC (D) Mr Sandeep Kumar, besides several others were also present on the occasion.
Mr Bharat Bhushan Ashu said that a total of 460 Fair Price Shops would be allotted in district Ludhiana, out of which 301 would be in rural areas and 159 in urban areas of the district (116 in Ludhiana city alone). He said that this pro-poor initiative would be instrumental in improving the economic lot of people besides further strengthening the public distribution system.
It is pertinent to mention that around 30,000 beneficiaries (average family of four) would be benefited with the allotment of 7,219 Fair Price Shops (FPS) in the state.
During the address of Chief Minister Capt Amarinder Singh through video conferencing from Mohali, he lauded the endeavour of Food, Civil Supplies & Consumer Affairs Minister Mr Bharat Bhushan Ashu for working hard to plug leakages in Public Distribution System with introduction of ePOS machines using biometrics to ensure that ration only goes to the rightful beneficiaries. 
Mr Bharat Bhushan Ashu thanked the Chief Minister for allowing an increase in the margin money paid to FPS owners for distribution of food grains from Rs.25 to Rs.50 per quintal retrospectively from April 1, 2016, thereby fulfilling the long pending demand of FPS owners.
He said that the Department of Food, Civil Supplies and Consumer Affairs, Punjab had invited applications for granting 7,219 Fair Price Shop (FPS) Licenses in the State with 987 urban and 6232 rural vacancies. The department has followed a very transparent mechanism in granting these licenses. He also said that the department also provided 17 lakh food kits to all the needy sections of the society during the lockdown period.