Ashu inspects working of mechanised sweeping machines at Sarabha Nagar Market and Mall Road
Also inspect e-rickshaws that are proposed to be used for solid waste management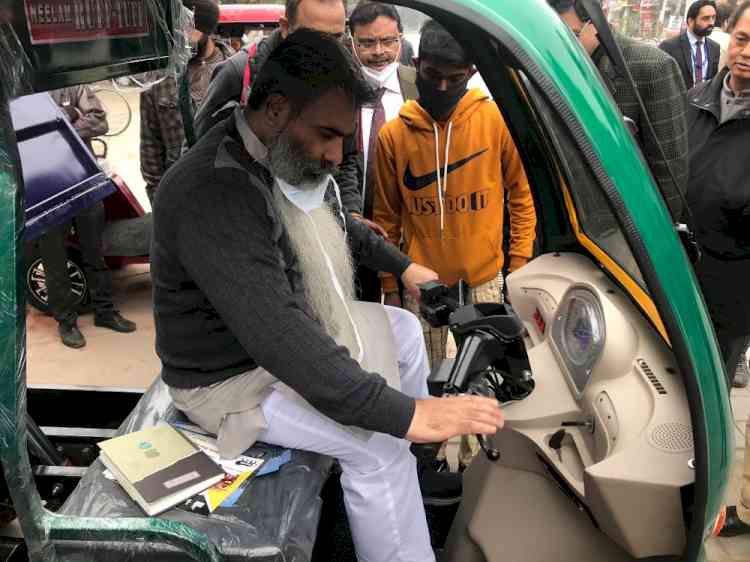 Ludhiana: Punjab Food, Civil Supplies & Consumer Affairs Minister Mr Bharat Bhushan Ashu today inspected the working of mechanised sweeping machines at Sarabha Nagar Market and Mall Road areas of the city. He also inspected the working of e-rickshaws that are proposed to be pressed into service for solid waste management in the city.
    He was also accompanied by Mayor Mr Balkar Singh Sandhu, Senior Deputy Mayor Mr Sham Sunder Malhotra, Councillors Mrs Mamta Ashu, Mr Sunny Bhalla and Mr Hari Singh Brar, MC Commissioner Mr Pardeep Kumar Sabharwal, MC Joint Commissioner Mrs Swati Tiwana, besides several others.
    Mr Bharat Bhushan Ashu said that he is working tirelessly for carrying out overall development of the city as well as providing the residents with the best civic amenities. He said that the MC is all set to introduce mechanised sweeping of roads and pavements in all prominent city markets. He said that inspection of such machines by different companies was done in the presence of senior MC officials today, after which a comparative report would be prepared and final decision would be taken.
    He said that entire parking area as well as the pedestrian way of Sarabha Nagar Market was cleaned with the help of ultra modern mechanised sweeping machines. Later, he also inspected the working of such machines on Mall Road, here.
    Mr Ashu also inspected the working of e-rickshaws that can be pressed for solid waste management in different parts of the city. He said that several such plans for providing best civic amenities to the residents are underway.
    He also informed that mechanised sweeping is all set to start soon in Shaheed Bhagat Singh Nagar, Rishi Nagar, Rajguru Nagar, Sant Ishar Singh Nagar as well as several other areas of the city too. 
    Mr Ashu informed that the Sarabha Nagar Market has been developed into a smart market.
    He assured the residents that he would personally monitor the progress of these projects and no lapse would be tolerated. 
    He also assured that he would ensure that public money is not wasted and put to best use. He said that besides this, several other initiatives have also been started, such as the Sidhwan Canal Waterfront project, upcoming sports park at Jainpur, upgradation of all existing sports facilities, developing several roads into smart roads, installation of static compactors for better management of solid waste, to name a few.