Ashu celebrates Diwali with safai karamcharis and sewermen of MCL
Lauds their earnest efforts in making clean and green Ludhiana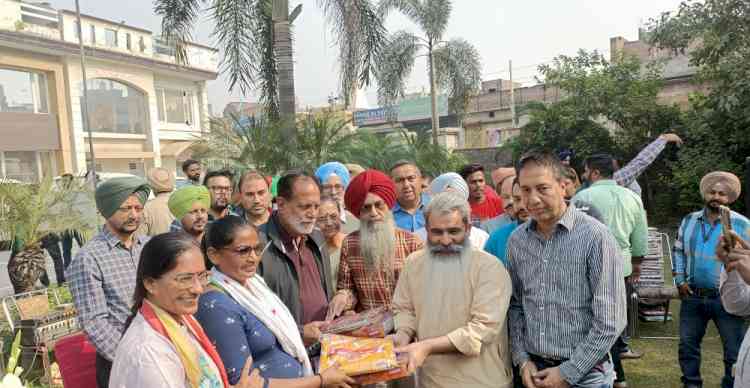 Ludhiana, November 3, 2021: In a benevolent gesture of celebrating Diwali with compassion, humanity and brotherhood, Food, Civil Supplies and Consumers Affairs Minister Bharat Bhushan Ashu on Wednesday celebrated Diwali with more than 800 Safai Karamcharis and Sewermen of Municipal Corporation Ludhiana (MCL) who are posted in 17 wards of Ludhiana (West) constituency and shared the festivities with them. 
Ashu accompanied by Mayor Balkar Singh Sandhu, Municipal Councillor Mamta Ashu and several others, he exchanged gifts with all Safai Karamcharis and Sewermen.
The Cabinet Minister said that it was a momentous occasion for him to celebrate the festival of light with these frontline workers who left no stone unturned in making Ludhiana clean and green. 
He also said that he was very fortunate to have got this opportunity for celebrating this festival here as Safai Karamcharis are real heroes and their contribution towards realising the dream of Ludhiana Smar City cannot be matched. 
Ashu reiterated that since centuries, Diwali- a festival of love, light and prosperity us being celebrated by us with utmost devotion and full religious zeal. 
He said that the sparkling lights of Diwali not only illuminate every household but it is also a symbol of the victory of light over darkness, good over evil and hope over despair. 
He appealed the people to celebrate this festival with traditional fervor and gaiety rising above the parochial considerations of caste, color, creed and religion thereby cementing the bonds of harmony, amity and goodwill. 
Ashu said that that all the residents of city must come forward and make a firm resolve to celebrate Diwali with green crackers.
Prominent among those present on the occasion included Councillors Sunny Bhalla, Dilraj Singh, Dr Hari Singh Brar, Maharaj Singh Raji, Pankaj Kaka, Baljinder Singh Bunty, Poonam Malhotra, Amrit Varsha Rampal, senior Congress leader Baljinder Singh Sandhu, Dara Babbar, Davinder Singh Ghuman, besides several others.