Apeejay College of Fine Arts showcased Fashion Show "Lavanya" 
Theme of event was "Fashion is for everyone"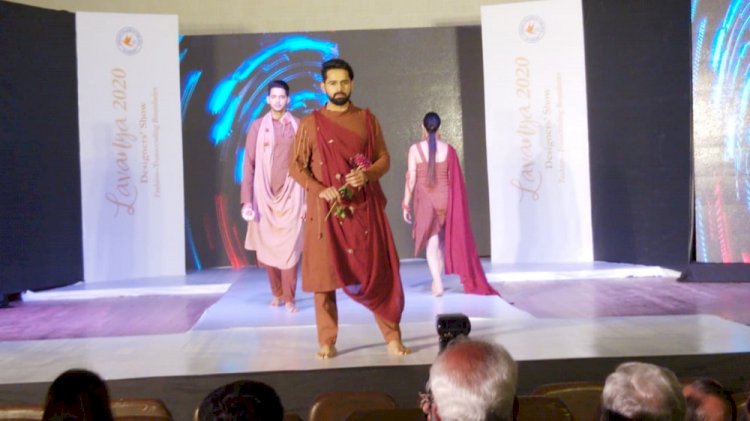 Jalandhar: 70 designers and model students of Department of B.Design of Apeejay College of Fine Arts, Jalandhar showcased the beautiful Fashion Show "Lavanya" on the theme "Fashion is for everyone". Without doubt it succeeded in establishing the new parameters of fashion in the glamorous fashion world.
Through Lavanya 2020, they strongly put forth the idea that to wear designer clothes, one does not need to have necessarily a typical model like physique and looks but a simpleton person can also attract attention and appreciation wearing these clothes. Even the pregnant women can feel more confident about themselves wearing these clothes. These clothes where on hand reflected the unity in diversity of India; on the other hand also demonstrated sensitive social issues. 9 rounds were executed by Designer and model students.
Principal Dr. Sucharita Sharma was wholehearted, grateful and thankful to Mrs. Sushma Paul Berlia, President Apeejay Education Society for providing Apeejayite this huge platform for showcasing their talent and hard work.
This will not only give them acknowledgement and appreciation but also the critical comments of experts will help them to develop their perfection and modify their work.
Panel of Judges for Lavanya 2020:
1.    Ms. Seema Mahajan, 
Textile Designer, Dean Academic Governance
Pearl Academy, New Delhi
2.    Ms. Janette Tirkey
Model, 1st Runner up Ms Plus Size 2019
3.    Mr. Ashish Dhaka
Assistant Professor
Course Leader UGFD
Pearl Academy, New Delhi
 
Name of Rounds

Theme

Designers

AQUAE VIVENTIS

 

This collection is inspired from the marine life

Vandana & Parul Arora

SHUCHI

 

This collection is inspired from menstruation which is a symbol of strength, purity and fertility

Khushboo Arora & Kirandeep Kaur

 

MYSTIC L' VIGOR

 

This collection is inspired from the dark world of supernatural

Jahnvi Kapoor & Navkiran Kaur

 

SLUBS 'n' CLUBS

 

This collection is inspired from beautiful Kullu wear

Parneet Arora & Neharika Arora

ATHASI GHAT

 

This collection is inspired from Ghats of River Ganga

Vanshika Jain & Sarthak Sodhi

CIRQUE LA VISTA

 

This collection is inspired from circus which represents happiness and joy.

Muskan Arora

 

HAYA

 

This collection is inspired from Islamic architecture and lifestyle.

Rajbir Kaur

 

HAKUNA MATATA

To empower the Pregnant women.

Students of Fashion Design Sem 6

CHAITANYA

The collection showcases a elements of earth being effected by evil force plastic.

Students of Fashion Design Sem 4
Designers and Models for Lavanya 2020
| | | | |
| --- | --- | --- | --- |
| Sr. No. | Name of Girls | Sr. No. | Name of Boys |
| 1. | Aparna Arora | 1. | Harsh Chawla |
| 2. | Bhawna Bhalla | 2. | Ekagra Kapoor |
| 3. | Mannat Jagmohan Singh | 3. | Prabhamrit Singh |
| 4. | Anmol Shikha | 4. | Ramandeep Singh |
| 5. | Nandini Sharma | 5. | Navpreet Singh |
| 6. | Riya Kapoor | 6. | Pulkit Katyal |
| 7. | Arushi Kumar | 7. | Sunish Kumar |
| 8. | Anshika Kaushal | 8. | Akash Bhagria |
| 9. | Ruchi Jain | 9. | Ish Bansal |
| 10. | Aaradhya Chouhan | 10. | Nitin Sharma |
| 11. | Tanavpreet Batra |   |   |
| 12. | Gurleen Kang |   |   |
| 13. | Gurleen Kaur Ghuman |   |   |
| 14. | Kriti Mahajan |   |   |
| 15. | Kashish Sharma |   |   |
| 16. | Navkiran Kaur Virk |   |   |
| 17. | Niharika |   |   |
| 18. | Nancy Kaushal |   |   |
| 19. | Saloni Bhandari |   |   |
| 20. | Nandita Sharma |   |   |
| 21. | Amanpreet Kaur |   |   |
| 22. | Mankamaldeep Kaur |   |   |
| 23. | Gagandeep Kaur |   |   |
| 24. | Isha Sandir |   |   |
| 25. | Diksha Puri (Anchor) |   |   |
| 26. | Jahnvi Aggarwal (Anchor) |   |   |