&TV signs off 2020 with an exciting new year line-up for 2021
Welcomes the new year with its biggest launch by entering a new genre of a crime thriller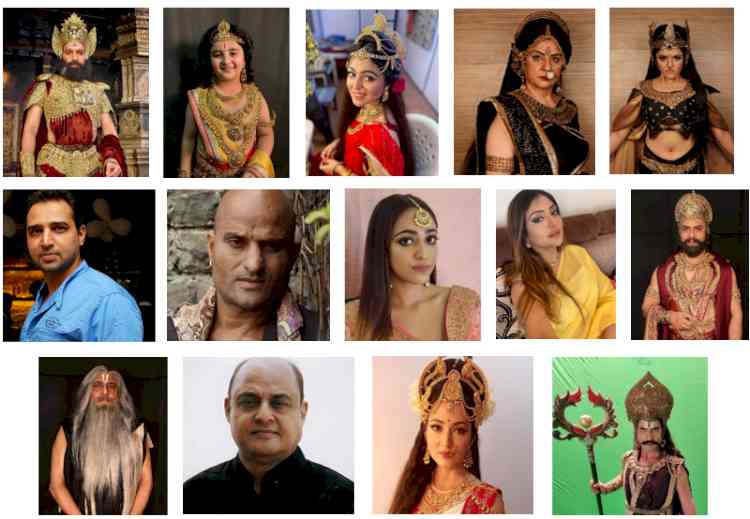 2020 has been a year like no other – a year of challenge, hope, inspiration, solidarity and collaborative efforts and achievements! As 2020 comes to an end, &TV reflects its year in review. The channel commenced the year with big bang launches of Bhakt Aur Bhagwan Se Judi Do Kahaniyian - 'Kahat Hanuman Jai Shri Ram' and 'Santoshi Maa Sunaye Vrat Kathayein' in January. In the third quarter, as the shoots resumed, &TV launched its creative campaign of #TayyariHumariZabardastHai, offering Zabardast Entertainment with Usse Bhi Zabardast Kirdars Aur Kahaniyans. Wrapping up the year on a high note, &TV recently launched an untold and unheard story of 'Yeshu', first time on Hindi GEC. Produced Arvind Babbal Productions Pvt Ltd, the show will premiere on December 22, 2020, at 8:00 pm and will air every Monday to Friday.
As the channel gears up to embrace the new year of 2021 filled with renewed energy, new hope with brand-new characters and stories, let us look back at the year gone by in details. 
A FUSION OF INDIAN HEARTLAND CULTURE
Celebrating every facet, flavour, character, and stories that authentically brings alive the essence of our Indian culture, &TV presented wide-ranging stories and characters during the year. 
'Santoshi Maa Sunaye Vrat Kathayein' for the devout at heart, the age-old tradition of Vrat Kathas to attain peace and contentment in life
Indians have followed the culture of vrats for as long as one can remember, to demonstrate their devotion to God along with a means to overcome various obstacles and attain spiritual progress. Behind every vrat, there are several interesting mythological and historical stories, which are deeply rooted in our rituals and culture. And these are known as 'Vrat Kathas'. Conveying a message of the ultimate triumph for the sincerely devoted, in a storytelling format, the socio-mythological show, 'Santoshi Maa Sunaye Vrat Kathayein', produced by Rashmi Sharma Telefilms, marked the comeback of popular Bollywood actress Gracy Singh as Santoshi Maa. It also featured Tanvi Dogra portraying the role of Swati, an ardent devotee and how she makes way through various problems under the guidance of Santoshi Maa and Ashish Kadian, essaying the role of Swati's husband, Indresh.

Narrating untold stories and the purest form of devotion with 'Kahat Hanuman Jai Shri Ram.' 
  
For every God, there is a devotee. Still, it is Lord Hanuman's unyielding devotion and selfless dedication to Lord Ram that truly sets him apart and makes him the epitome of 'Bhakti'. A captivating story of devotion in its truest form, Kahat Hanuman Jai Shri Ram *depicted* the many unexplored sides of Lord Hanuman, including the purpose of his life. Giving viewers a glimpse of the unheard tale of Lord Shiva and the invincible evil Ravana, viewers witnessed the fascinating mythological journey of how Bal Hanuman eventually emerged as the greatest devotee of Lord Ram and managed to bring a successful end to Ravana's reign of terror. The show featured Ekagra Dwivedi essaying the young lead character of Hanuman along with Nirbhay Wadhwa as Bali, Sneha Wagh as Anjani (Hanuman's mother) and Jiten Lalwani as Kesari (Hanuman's father) amongst others.
An untold and unheard story of 'Yeshu', first time on Hindi GEC
                                                                                
In challenging times like today where despair is high, virtues like Compassion, Kindness, Hope, Love and Forgiveness are the cornerstones of humanity that will help us sail through the crisis. One iconic story where good presides evil and compassion over condemnation is that of 'Yeshu'. &TV is proud to present, for the first time in Hindi GEC, the untold, unheard story of 'Yeshu'. 
'Yeshu' is a story of an exceptionally benevolent child who only wants to do good and spread happiness all around him. His love and compassion for all is a stark contrast to the dark, evil forces prevalent during his lifetime. Witnessing the various atrocities on his family and in society has a deep impact on him. His attempt to help others and ease their pain often leads to situations where he inevitably ends up being hurt and condemned, by not just the oppressors, but also people at large. But even that does not stop Yeshu from continuing on his path. The show has a stellar cast, comprising of, Vivaan Shah portraying the role of young Yeshu, Sonali Nikam as Mary, Aarya Dharmchand as Joseph, Darpan Srivastava as King Herod and Rudra Soni as Herod Antipas amongst others. Produced Arvind Babbal Productions Pvt Ltd, the show will premiere on December 22, 2020, at 8:00 pm and will air every Monday to Friday.
 
DARSHAKON KE PASANDIDA KIRDAARON KE NAYE AUR ANOKHE ANDAAZ 
While the viewers developed a fondness for the fresh faces, the known ones continued to be audience favourites, by entertaining them in their Naye aur Anokhe Andaaz.
 
In their quest to trying to impress each other's wives, the Modern Colony's neighbouring couples, the Mishras and the Tiwaris in Bhabiji Ghar Par Hai brought in fresh looks and fun stories offering a full dose of hilarity and laughter. From Vibhuti Narayan Mishra (Aasif Sheikh) as legendary Joker to Italian Don Vito Paparazzi (inspired from Godfather), con baba (Jack Sparrow look), etc. and Angoori Bhabi (Shubhangi Atre) as Devi of swarg lok and Chandralekha with a character similar to Manjulika from Bhool Bhuliya, & TV's cult show took the audience on a comic role. The show also completed its 1400-episode milestone recently.
Daroga Happu Singh, his 'Dabangg Dulhan Rajesh and his obstinate mother Katori Amma's 'gharelu' misadventures and comic tragedies brought in Zabardast and Mazedaar plots with unexpected twists. With refreshing and entertaining plots, the show had the lead cast in varied looks. Some of them being Daroga Happu Singh (Yogesh Tripathi) in a housemaid look (Neetu) to save himself from a dangerous criminal who is on the run, Happu in Sardar get-up to avoid getting exposed by the girl whose heart he broke during childhood, etc. Rajesh (Kamna Pathak) also played with different looks such as a college-going girl to put up an act as Katori Amma (Himani Shivpuri) faced a temporary memory loss, Kamna as the promising candidate for election, etc. Himani Shivpuri too was seen experimenting with looks as she was seen in a chic look as she transformed into Katori Amma 2.0 post receiving a new smartphone. 
NAYE KIRDAAR, NAYE TWIST – 29 POPULAR FACES IN A SIGNIFICANT ROLE 
Santoshi Maa Sunaye Vrat Kathayein: 
1.    Ratan Rajput's comeback as Santoshi Maa's Ansh - Santoshi (Ratan Rajput) in two avatars, that is, of Devi, called Ushma Devi and human avatar named Santoshi to help Swati (Tanvi Dogra) to get justice and punish those responsible for her situation. 
2.    A riveting entry of Sara Khan as Devi Paulomi – Bringing in a hoard of drama in the lives of Santoshi Maa (Gracy Singh) and her ardent bhakt Swati (Tanvi Dogra), Sara Khan made a riveting entry in the show, as Devi Paulomi. 
3.    Jiya Chauhan as Goddess Parvati
4.    Garima Parihar later replaced Jiya Chauhan to portray the role of the Goddess 
Ek Mahanayak Dr B.R. Ambedkar:
A new family entered the show with the prospect of getting their son married to Ramji's daughter to extort a considerable dowry from them. Aditya Konar as the prospect groom Bhasker, Alok Sengupta and Kavita Jadhav (Bhasker's father Shambhu and mother), Shoaib Kabeer and Kalyani Singh as his elder brother and his wife, Madhvi.
1.    Aditya Konar as Bhasker – Entering the show as Manjula's (Vanshika Yadav) prospect groom, Bhasker played a remarkable role in supporting Babasaheb to fight against child marriage.
2.    Kalyani Singh as Madhvi – As Bhaskar's sister in law, Madhvi supported him in taking the right decision by not marrying Manjula (Vanshika Yadav) and encouraging her in completing her education. 
3.    Shoaib Kabeer as Bhasker's brother – Initially in favour of getting Bhasker married to Manjula, Shoaib Kabeer did not care much about anything except himself. However later her realised his mistake and supported Madhvi (Kalyani) and Bhasker (Aditya Konar) in backing out from the marriage.
4.    Alok Sengupta as Shambhu – Shambhu is a male chauvinist and believes that women are meant to do household work only. He eagerly wants to get his son Bhasker married to Manjula (Vanshika Yadav) in an attempt to hoard dowry from Ramji (Jagannath Nivangune).
5.    Kavita Jadhav to play a mother of Bhasker – A staunch supporter of traditional customs, Kavita Jadhav always stood by her husband's decision, good or bad without any regret.
Gudiya Humari Sabhi Pe Bhari:
An Ancestral dacoit family entered Gudiya's neighbourhood making a golimaar entry in the haveli with Putli Bai (Abha Parmar), her son Madhav (Braj Kishore) and his wife Harbheji (Madhuri Sanjeev), grandsons Gabbar (Aman Gandi) and Guddu (Karam Rajpal).
1.    Karam Rajpal as Guddu – A Balbrahmachaari by nature, Guddu shares a sweet-sour relation with Gudiya (Sarika Bahroliya) which eventually blossomed into a close bond of friendship
2.    Aman Gandhi as Gabbar – Facing a mental illness, Gabbar has severe temper issues and is always locked away in a closed room. He loves the company of the chirpy and fun-loving Gudiya (Sarika Bahroliya) and having her around brings him to normalcy.
3.    Veteran actor Braj Kishore as Madhav – Madhav is a family-oriented man but the constant poisoning by his wife Harbheji (Madhuri Sanjeev), has filled him with selfish thoughts for his son Gabbar (Aman Gandhi).
4.    Veteran actor Abha Parmar as Pulti Bai – Erstwhile dacoit, Putli Bai has held on to all the members of her family and keeps a close watch on their actions and wants. Strict in nature and kind at heart, Putli Bai does not discriminate between her family members.
5.    Kishan Bhan who plays Pulti Bai's love interest, Matai – Matai, the caretaker of the house, considers all family members as his own and bears all insults for the love of Putli Bai (Abha Parmar). He is one of the most senior members of the family.
6.    Veteran actor Madhuri Sanjeev as Harbheji – Harbheji has an evil streak in her and wants all good for his son Gabbar (Aman Gandhi) and in the process envies Guddu (Karam Rajpal). She wants Gabbar to get married to a girl who can help him get rid of his mental illness.  
Kahat Hanuman Jai Shri Ram:
 
1.    Manish Wadhwa as Raavan – Making a grand entry showcasing his ten different forms and their attributes such as gyani pandit, beast, artist, raja, etc. was Manish Wadhwa as Dashanan aka Raavan. 
2.    Child actor Nirnay Samadhiya as Ram – Shown as someone who fights the wrong and evil since a very young age with equal compassion for his subjects was child actor Nirnay Samadhiya as Maryada Purushottam Ram. 
3.    Shafaq Naaz as Ram's mother Kaushalya – Playing a pivotal role in inculcating right values in his son Ram was his mother, Kaushalya essayed by Shafaq Naaz.
4.    Alka Kaushal as Kaikasi, Ravan's mother – The mother of one of the mightiest and most knowledgeable kings Ravan and the eldest queen of Ayodha, Kaikasi does possess the qualities of an asur but also stops Ravan from taking extreme steps such as Sita Haran.
5.    Divyangana Jain as Lankini – Lankini played by Divyangana Jain was one of the most ferocious asuras guarding the walls of Ravan's sunheri Lanka.
6.    Romanch Mehta as Mareech – Son of Tataka and Subhau, Mareech played by Romanch Mehta was one of the strongest rakshasas who often terrorised sages and also helped in Sita Haran.
7.    Pradeep Kabra as Subhau – Father of Mareech, Subhau often harassed the sages while they performed their holy yagnas and killed them. He was killed by Ram (Nirnay Samadhiya).
8.    Bhavya Sharma as Sumitra – Mother of Lakshman and Shatrughna, Sumitra played by Bhavya Sharma was one of the wisest wives of Dashrath. She encouraged Lakshman to accompany his brother Ram and serve him during exile. 
9.    Khushi Mukherjee as Kaikayi – Kaikayi became one of the strongest negative characters of Ramayana. Wanting to see her son Bharat on the throne of Ayodhya, she was the one behind Ram being sent to exile.
10.    Anwar Khan as Dashrath – Raja Dashrath was the king of Ayodhya and was a very kind-hearted yet a strong personality. After sending his son Ram to a 14-year exile, he died in agony of not being able to meet him.
11.    Nagesh Salwan as Gargacharya (Rishi Vashisht) – Gargacharya played by Nagesh Salwan played was the guru of Raghu kul and trained Ram and his brothers. He played an essential role in guiding Hanuman (Ekagrah Dwivedi) in preparing Rama's kundali and naming him.
12.    Prithvi Zutshi as Vishrava (Ravan's father) – Vishrava was the son of Agastya muni and was a sage who married Kaisasi and fathered Ravan. After seeing the atrocities Ravan and Kaikasi would bring upon people around him, he disowned his own family.
13.    Punit Vashisht as Shani Dev – Punit Vashisht as Shani Dev played a crucial role in directing Bal Hanuman (Ekagrah Dwivedi) to his Bhagwan ram (Nirnay Samadhiya) by guiding him to chant Jai Shri Ram in a cave. It is only then that he saw a show of Lord Ram and decided on his journey to Ayodhya to witness Ram Janam.
14.     Vidisha Srivastav as Parvati – Vidisha Srivastav replaced Akangsha Rawat to play the role of Goddess Parvati in Kahat Hanuman Jai Shri Ram 
DHAMAKEDAAR CHEHRON KI DHAMAKEDAR ENTRY (6 POPULAR FACES IN A CAMEO ROLE)
1.    Sambhavna Seth as Mahua – Having portrayed the role of Mahua, Sambhavna enters the show as Radhe's (Ravi Mahashabde) first wife along with a son. Later it reveals that it was Harbheji's (Madhuri Sanjeev) game plan to teach Radhe's wife Sarla (Samta Sagar) a lesson. 
2.    Juhi Aslam as Vandana – Seen in a small yet dhamakedaar role in Gudiya Humari Sabhi Pe Bhari was Juhi Aslam as Vandana who is always frolicking around and never at one place. She suffers from short-term memory loss and has run away from her parents as they wanted to her marriage.
3.    Rani Chatterjee as Phool Kumari – Desirable, stunning and one who craves drama, Phool Kumari is a dancer by profession. Gudiya (Sarika Bahroliya) mistakes someone's else medical report for Nanhe and sees cancer. To find him a companion for his last days she gets Phool Kumari in the house.
4.    Sandeep Anand as Sandeep – Sandeep is a good-looking, rich brat, famous, haughty, and pompous television star. Nanhe somehow manages to trick him into visiting Gudiya's (Sarika Bahroliya) house for an alliance.
5.    Annu Awasthi as Annu – Annu is a stuck-up person and a penny pincher who walks and talks in marketing. On entering the Gudiya (Sarika Bahroliya) house, he offers fraud schemes and makes people find more members by offering lavish promises.
6.    Bhavna Balsawar as Babli Bua – Sweety (Shweta Rajput) always falls victim to Sarika's bua's taunts. Hence to have someone answer on her behalf on Gudiya's (Sarika Bahroliya) recommendation she brings in her Babli bua who is witty, loud, and street smart.
7.    ADD HIS PICTURE Jay Soni as Hulchul Pandey – Making a smashing entry into Gudiya's family as Hulchul Pandey a dashing police office is television's heartthrob - Jay Soni. He trains Gudiya (Sarika Bahroliya) in inspecting crimes to grass root level and, learning from him, the bedhadak Gudiya innocently prevents a crime that is about to take place in her family.
WELCOMING 2021! 
&TV welcomes the new year with its biggest launch by entering a new genre of a crime thriller. In an anthology series format, the show will run episodes based on unheard real-life incidents with suspenseful endings. The show will premiere on the channel in January 2021.