Amrita Vishwa Vidyapeetham enters top 50 in world in Times Higher Education Impact Rankings 2022
Amrita ranked 41st among 1,406 universities from 106 countries/regions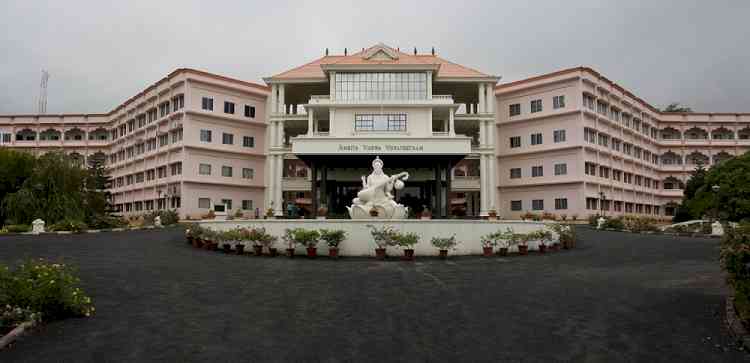 Hyderabad, April 28, 2022: Amrita Vishwa Vidyapeetham has advanced from 81st (2021) to 41st Rank in the THE Impact Rankings 2022; the only global indicator to assess universities' progress toward the UN's 17 Sustainable Development Goals (SDG).
Apart from overall rank, Amrita is also ranked 8th in the world for Good Health and Well Being, 8th for Gender Equality, 15th for Clean Water and Sanitation, and 32nd for Quality Education.
The 2022 Impact Rankings is the fourth edition, and the overall ranking included 1,406 universities from 106 countries/regions, up from 1,117 institutions from 94 territories last year.
Dr. P Venkat Rangan, Vice-Chancellor, Amrita Vishwa Vidyapeetham, said, "We are delighted that Amrita University has found its place in the top 50 universities in the world in THE Impact Rankings 2022. We at Amrita primarily focus on the dual goals of - education for life and compassion-driven research. We are glad that our vision has helped Amrita Vishwa Vidyapeetham escalate the Rank this year to 41. This growth wouldn't have been possible without the tremendous efforts of our students and faculty."
Guided by the vision of Mata Amritanandamayi, Amrita varsity has a long-standing tradition of focusing its research on uplifting the economically challenged and other vulnerable sections of society. This includes Amrita Live-in-Labs , a credit-based program through which students and faculty go to rural villages throughout India. While living in those communities, identify and assess the villagers' needs and develop and implement viable solutions aligned with UN Sustainable Development Goals. The university has two UNESCO Chairs – one on Gender Equality & Women's Empowerment and another on Sustainable Development and is home to NIRF's No 6-ranked teaching hospital that has conducted massive charitable outreach to the poor.
Dr. Maneesha Ramesh, Provost, who heads the Live-in-Labs initiative under the new School for Sustainable Development, expressed, "With more than 150 projects in 21 states across India, Amrita Live-in-Labs participants have touched the lives of approximately 60,000 rural residents during the past several years, clocking 200,000 + hours in the field working towards sustainable development in rural communities directly contributing to the SDG3 (Good health) and SDG5(Gender Equality)."
The THE Impact Rankings include metrics based on all 17 of the UN Sustainable Development Goals across four broad areas: research, stewardship, outreach, and teaching. Western Sydney University occupies the number one spot in the fourth edition of Times Higher Education's Impact Rankings, followed by Arizona State University (Tempe) in the US and Canada's Western University.
Overall, the UK has the most universities in the top 100 at 20. Australia is close behind with 17 in the top 100, followed by 16 in Canada and seven in New Zealand. This year 61 universities from India participated making it the fourth-best represented nation in the THE Impact Rankings 2022, out of which eight made it to the global top 300 list.