Amity University organized professional development programme on entrepreneurship 
The objective program is to focus on identification and development of skills required for a successful entrepreneurial journey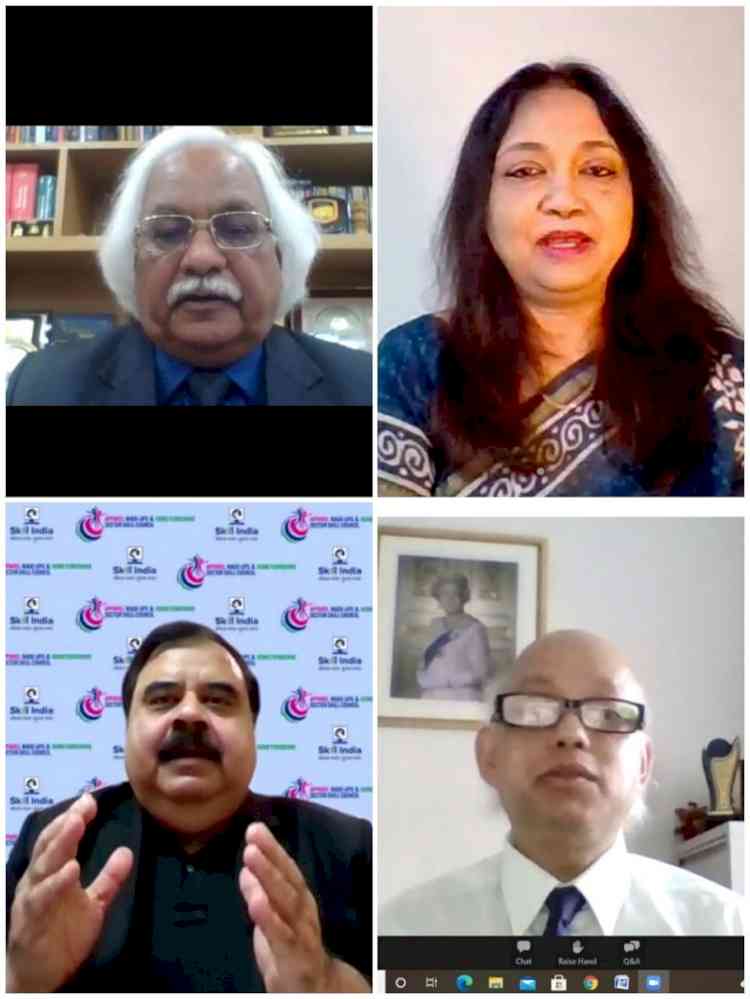 Gurugram: Entrepreneurial activities have emerged as an imperative instrument of economic development, innovation and employment. The changing dimensions of Entrepreneurship in India requires a new approach and awareness of contemporary practices, new facets of self and team motivation and needs to construct the right skill sets for its success. Keeping this in mind Amity University Haryana organized a Five Day Professional Development Programme on 'Entrepreneurship' from 19th July to 23rd July 2021. The objective program is to focus on identification and development of skills required for a successful entrepreneurial journey.
Addressing the gathering Dr. Roopak Vasishtha, CEO Apparel and Madeups Sector Skill Council, on Employability, Skills and Entrepreneurship deliberated on how entrepreneurship is used by Government of India to actually create an amicable ecosystem and environment facilitating entrepreneurship. Starting from 2014 apparel sector has trained 35 lakh people out of which 3 lakh have started their own entrepreneurship and acting as job creators. Many of these young generation people have opted for opening start-ups instead of wage employment. Many entrepreneur trainee in apparel sector have started their own boutique. Skill data and entrepreneurial attitude very important for success in this terrain. 
"Today's age of entrepreneurship is attracting young people to open their start-ups. Aspirants need to take baby steps first and then scale up later on. There are lots of agencies that are encouraging funding opportunity as soft loans for entrepreneurial ventures," added Dr Vasishtha. 
While explaining about Entrepreneurship Mindset Dr. P.R. Dutta , Executive Chair- Centre for Business & Economic Research, Editor-in-Chief, Journal of Business and Retail Management Research. Senior Lecturer Northampton University at Regent College emphasized on entrepreneurial mindset that is a combination of beliefs, focus and attitude. It is distinct from skills and knowledge. So entrepreneurship primarily deals with the mindset and set of attitudes. According to him India is the best place to initiate entrepreneurship because of vibrant democracy and lots of young talents.
Mr. Aakash Gupta, Leader, Client Capabilities Hub, Mckinsey, India said, Entrepreneurship is the foundational skill and knowledge. It entails thinking about something, then creating that thing and finally moving forward with that thing.
While delivering his special address Prof P B Sharma, Vice Chancellor, Amity University Haryana emphasized on entrepreneurship innovation. We have to create enterprising and innovating mind in our teachers who further can nurture our young mind to create mass entrepreneurship. It's the age of continuous innovation. There is a need to understand and analyze the huge opportunities unfolded by innovation ecosystem in India. 
While delivering her opening address Prof Padmakali Banerjee, Pro Vice Chancellor, Amity University Haryana said, India is creating an ecosystem for the entrepreneurs, especially after globalization India emerged as one of the best country in terms of 'Ease of Doing' business. Covid also has taught us to use digital platforms in the best way possible which is a great addition without using huge capital to start their entrepreneur journey."
"Entrepreneurship requires right kind of spirit and determination and never give up attitude for success," Dr Banerjee added. 
While delivering his welcome address Prof.(Dr.) Vikas Madhukar, Dy Pro Vice Chancellor, Amity University Haryana talked about the changing scenario of entrepreneurship and innovation ecosystem in India. That was followed by a brief outline of what Amity University Haryana is doing to promote entrepreneurship and innovation for students and other eligible aspirants who want to venture on opening start-ups.
Dr Reena Nigam, HoD, Amity Skill Institute, Mr Sachin, Juneja, Director, Marketing, Rear Admiral K K Pandey (Retd), Director, HR, Maj P K Sharma (Retd), Dr Manish Verma, Director ASCO, Dr Tanushree were also present with more than 100 participants who attended the program.