Amity University Haryana organized two days conference on "NEP 2020: Human Values and Indian Knowledge System"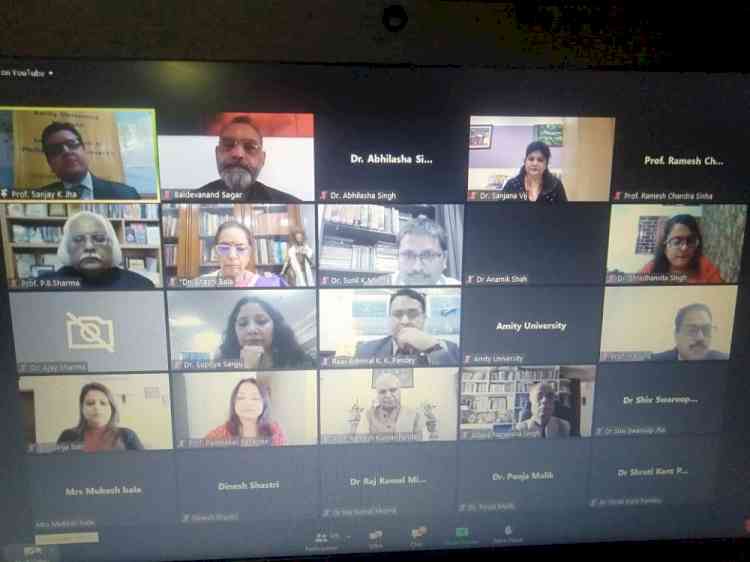 Amity Academic Staff College (AASC), Amity School of Liberal Arts & Amity School of Sanskrit and Indic Studies, Amity University Haryana (AUH) organized two days conference "NEP 2020: Human Values and Indian Knowledge System" on 23rd and 24th November, 2021 sponsored by Indian Council of Philosophical Research (ICPR) to bring out the applied part of Indic wisdom to inculcate human values so that our society could produce more creative leaders for a better world.
The inaugural session was graced with the august presence of a galaxy of illustrious luminaries from academia. ICPR Chairman, Prof. Ramesh Chandra Sinha was the chief guest of the session accompanied by Prof. Dinesh Chandra Shastri, Director, Haryana Sanskrit Academy, Rajyogini Brahma Kumari Asha Didi, Director, Om Shanti Retreat Centre, Vilaspur, Haryana, and Dr Anamik Shah, President, Indian Society of Chemist and Biologist, Lucknow. The conference was attended by around 300 learned participants from different premier universities of India.
In his address, Prof P B Sharma, Vice Chancellor, Amity University Haryana said, "Now is the opportune time with NEP 2020. We can look back at our rich treasure of heritage in our scriptures and vedas and it has to be inculcated well in our knowledge system. Today in our country we have both challenges and opportunities to spread our old Indian knowledge system to the world. Indian knowledge system has to be understood well and deeply. Our ancestor said that knowledge is revealed to those who have pure heart. "Value is something that can be practiced with pleasure and possessed with pride till the last breath of our existence," Prof Sharma added.
In his keynote address, Prof Ramesh Chandra Sinha said that if a nation does not catch up with technology it is considered to be poor which is paradoxical. He emphasized on the need of striking a balance between technology and values through NEP 2020.
In her thematic address, Prof Padmakali Banerjee, Pro Vice Chancellor, AUH said, "NEP 2020 includes ethical reasoning and traditional values and Amity University is already focusing on value based and quality education". In particular, she drew the attention of the participants stating that spirituality means leading a good life and one must read Bhagvad Gita to learn how to lead a good life.
While addressing the gathering Guest of Honor, Prof. Ramesh Kumar Pandey, Vice Chancellor, Shri Lal Bahadur Shastri National Sanskrit University, New Delhi, said "Our Indian system is known for gyan vigyan. Our teachers give knowledge that gives us character. Gurus should give Gyan Parampara to students, they should be given proper path to followed by students. Veda Arya is the one who has knowledge of Vedas. In NEP, we need to follow the path of truth with shraddha and vishwas to make our country a lightning guide for rest of the world."
While elaborating about the New Education Policy 2020, Dr. Shashi Bala, Dean, Centre for Indology, Bharatiya Vidya Bhawan, New Delhi said, "NEP aims at preparing students to become ideal students, ideal human beings and citizens. Highest level of achievement is reached by those who live a life of balance and ethics. Sense of oneness will create harmony."
While delivering the inaugural address chief guest of the conference, Professor Ramesh Chandra Sinha, Chairman Indian Council of Philosophical Research (ICPR) said, "Education is the accumulation of information and cultivation of values in life. NEP lays great emphasis on ethical values. The paradigm shift has taken place from the Marxist philosophy. The new education policy has great vision of our Prime Minister Narendra Modi , how   values  are  important  in   educational  life."
In his welcome and valedictory address, Prof Sanjay Kumar Jha, Director (Liberal Arts) and the Chair of the Conference stated that our world is becoming unlivable for lack of value education. He expressed his concern over the current mode of mainstream education stating that it is more oriented towards teaching survival skills rather than teaching how to live and coexist in peace and harmony with fellow human beings. He appealed to promote NEP 2020 for the holistic wellbeing of all.
In her opening remarks, Dr Sanjna Vij, Program Director, Amity Academic Staff College said that in the traditional period, education system of India was balanced between covering knowledge sphere and attaining life's purpose which is a happiness quotient. But these qualities are not visible in the present education
 
system. She suggested that our education should prioritize character, spiritualism, philosophy, happiness and peace rather than just wealth, materialism.
The hallmark of the conference was the august presence of His Excellency, the Ambassador of India to Ireland, Dr. Akhilesh Mishra and eleven plenary speeches by Dr. Pankaj K. Mishra (St. Stephen's College, Delhi University), Prof. Rishi Pal (Shri Vishwakarma Skill University, Haryana), Prof. Udaya Narayana Singh (Amity Unversity Haryana), Prof. Sanjay K. Jha (Amity University Haryana), Pro. Rachna Bimal (Satyawati College, Delhi University), Prof. Sanat K. Sharma (Central University of South Bihar, Gaya), Dr. Baldevanand Sagar (Professor, National School of Drama, New Delhi), Dr. Ashutosh Angiras (Sanatan Dharma College, Ambala), Dr. Shruti Kant Pandey (Amity University Noida), and Dr. Sarita Sharma (Kamla Nehru College, Delhi University).
Vote of thanks was proposed by Rear Admiral K. K. Pandey, Director, Amity Academic Staff College, Amity University Haryana.