All prominent Ludhiana city markets to have mechanised sweeping soon: Ashu
Says main aim is to provide best civic amenities to city residents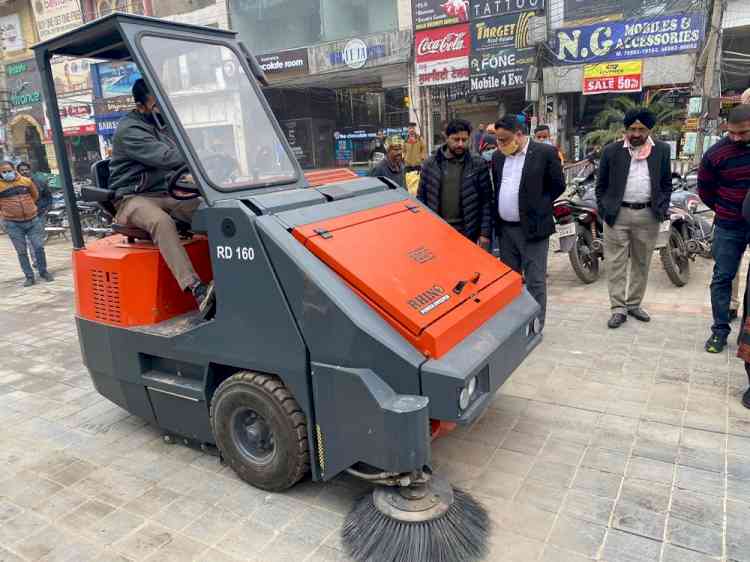 Ludhiana: Punjab Food, Civil Supplies & Consumer Affairs Minister Mr Bharat Bhushan Ashu today informed that for the welfare of residents and to provide them with best civic amenities, all prominent city markets would soon have mechanised sweeping facility. Besides, mechanised sweeping is all set to start soon in Shaheed Bhagat Singh Nagar, Rishi Nagar, Rajguru Nagar, Sant Ishar Singh Nagar as well as several other areas of the city too. 
    Mr Ashu informed that the Sarabha Nagar Market has been developed into a smart market  He said that for Sarabha Nagar market project included upgradation of design, supply and installation of all landscape works, including undergrounding of electrical services. He said that all the electricity cables in this market are now underground and it presents a modern look. 
    He informed that demonstration of one such machine was inspected at Sarabha Nagar market today. Mayor Mr Balkar Singh Sandhu, MC Commissioner Mr Pardeep Kumar Sabharwal, MC Joint Commissioner Mrs Swati Tiwana, MC Councillor Mr Sunny Bhalla, DCC Ludhiana (Urban) President Mr Ashwani Sharma, besides several others were also present on the occasion.
    He further said that as a pilot project, mechanised sweeping would be started in Rishi Nagar, Shaheed Bhagat Singh Nagar, Rajguru Nagar, Sant Ishar Singh Nagar, besides several other areas of the city. He said that he would personally monitor the progress of this project and no lapse would be tolerated.
    He said that the main idea behind introducing mechanised sweeping in the city is to provide best international-level civic amenities to the residents. He said that besides this, several other initiatives have also been started, such as the Sidhwan Canal Waterfront project, upcoming sports park at Jainpur, upgradation of all existing sports facilities, developing several roads into smart roads, installation of static compactors for better management of solid waste, to name a few.