Alexa gets smarter with Hindi
Interact with Alexa in Hindi on any of the 12 Echo devices including the just-launched Echo Show 8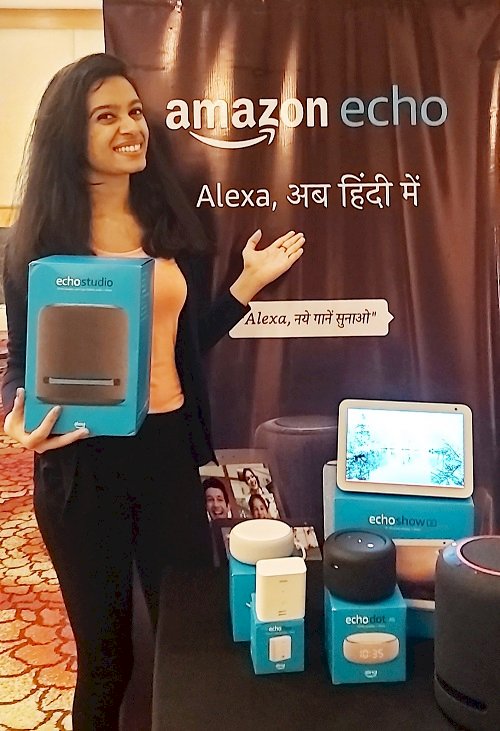 Chandigarh: Amazon Alexa, a voice assistant that can be accessed on Echo range of smart speakers, has become more Indian since the launch of Hindi language support. Lakhs of users in India interact with Alexa in English, Hindi and Hinglish every day for listening to music, controlling smart appliances, setting reminders, watching movies, playing nursery rhymes, asking for information and more.
 
Today, Alexa's jokes, songs, stories and conversations in Hindi come with a desi flavour. This has resulted in increased engagement with the voice assistant. Some of the most popular questions that users ask Alexa in Hindi are "Alexa, kaisi ho?", "Alexa, kahanisunao", "Alexa, I love you", "Alexa, mujhseshaadikarogi?", and "Alexa, ekshersunao".
 
Many Indian brands and developers have developed Alexa skills to engage with users in Hindi. Alexa skills are voice activated apps that add capabilities to your Echo Smart speakers. Today, there are over 800 Hindi skills ranging from Sanjeev Kapoor Recipes, Pearson Hindi Vyakaran and Chu Chu TV to Jungle Safari and Impossible Bollywood Quiz that users can enjoy with the entire family.
 
"At home, customers love to speak in Hindi or their regional language with a mix of English. This insight helped us launch Hindi language support for Alexa," said Puneesh Kumar, Country Manager for Alexa Experiences and Devices, Amazon India. "Our Hindi customers are more interested in Alexa's original content such as jokes, songs, shayaris and ask questionsinclined to history, politics and religion as compared to our English-speaking customers. It is very encouraging to see such high engagement with Alexa".