AITF writes letter to PM stating India's worst performance in women labour ratio major hurdle in GDP
Says many states performing worst in subject of women workers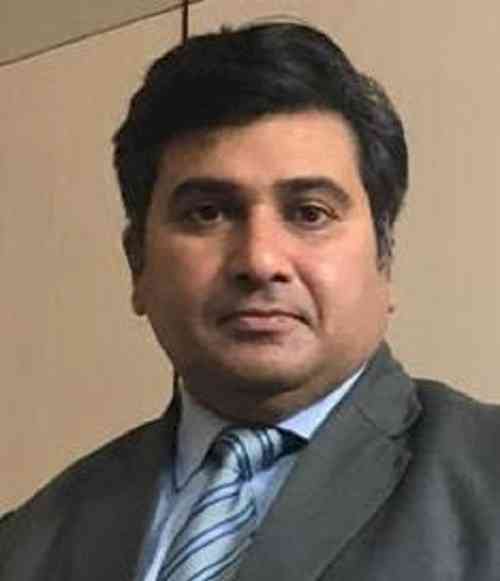 AITF national president Badish Jindal.
Ludhiana: The All Industries and Trade Forum (AITF) national president Badish Jindal has written a letter to Prime Minister Narendra Modi stating that "India's worst performance in women labour ratio is major hurdle in GDP of our country." He added that many states performing worst in subject of women workers. 
His letter reads as under: 

"India under your leadership is stepping forward with a mission of Make in India. The trade & Industry is also preparing themselves for this mission but the matter of scarcity of work force is major concern for Trade & Industries. The one of the major concern for workers which is also highlighted by its report of 2020 by World Bank is lowering down the number of female workers in India  
The World Bank data for Women labour work force clearly states that India is much behind the International average of women workers and its female workers ratio is drastically coming down every year. Please find below some facts which requires immediate attention:
Very low women workers number in India, Number of female workers coming down every year:
The data reveals that international average of women workers is 38.9% whereas India in women workers stands at 20.1%. India's arch rival China is having 43.7% working women in their country. This means that merely 20.1 women are working among 100 women in India. 
As per survey report of World Bank among 190 countries of world India's ranking is 177 in average of women work force in the country. 
India's female workers average is drastically dipping down since last 15 years. In 2005 26.4% women were working in India and India's rank was 168 among 190 countries.. Further in the year 2010 it dipped down to 23% with a ranking of 174 and in 2015 it came down to 20.6% with the world ranking of 177.
 
Even Afghanistan is in better position to India with an average of 21.4%, Pakistan is little above in ranking with 20.3%. Our neighboring countries Nepal have 55.7%, China has 43.7%, Sri Lanka has 34.7% & Bangladesh have 30.5% women workers in their respective countries.  
Poor performance of India in Male: Female ratio, Male – Female workers ratio is going down every year:
Similarly in male female workers ratio India stands at 181th position among 190 nations. The female workers ratio is 27 against per 100 male workers.  The world ratio of female workers working against male workers is 67:100
In female: male workers ratio China stands at 80 women worker against 100 male workers. Bangladesh has 45 female workers, Nepal has 97 female workers, Sri Lanka has 48 women workers against 100 male workers.  
Here also the ratio is dipping down drastically during last 15 years as in 2005 India's male female worker ratio was 38:100 with a world ranking of 170 in the world. In the year 2010 it came down to 32:100 and in the year 2015 it further came down to 28:100. 
Few States worst performers in Female Workers ratio in India:
Further if we split the female workers rate in India, many states are still worst performers. These states are Jammu & Kashmir 7.9%, Punjab 9.4%, Delhi 11.7%, Uttar Pradesh 12%, Himachal 15.1%, Madhya Pradesh 17.2%, Haryana 18.7% & Gujrat 19.9%. 
Most of these states such as Gujarat, Punjab, Haryana, Himachal Pradesh, Delhi are states which depends upon migrated workers for their states whereas the female workers of their states are badly unemployed
Whereas the states like Andhra Pradesh, Arunachal Pradesh, Chhattisgarh, Jharkhand, Manipur, Meghalaya, Mizoram, Nagaland, Sikkim, Telangana and Tripura are performing above the world female workers ratio. 
Thus the state having low performance of female workers requires setup their goals for a better tomorrow. 
Actions require boosting the female workers status in India:
The female workers in many sectors can perform better to male workers. For Industries female workers are more efficient and cheaper as compared to male workers. The government must set a target for the worst performing states to boost their women workers rate.
The MNREGA can be reserved for the female workers having low performing rates. 
One of the main bottlenecks for lower ratio of women worker is the scarcity of day care centers in states. The private day care centers are very costly and women workers can't afford their expenditure. So the government requires planning of "Aanganwadi" programs in this regard. The private players and NGO's many contribute in such projects so that the number of women workers can be enhanced in such states. 
The Investment projects of states shall have some specific ratio of women workers for linking the projects to subsidy. The government can contribute to subsidize the social security burden for female workers. The government shall link the ratio of subsidy to the number of women employment in the unit. The government may consider more export incentives for the units having majority of women workers. 
There should be free bus/train passes for working women to promote them to work in Industries of nearest towns. The scheme of working women hostels requires to speed up in slow performing states. 
The skill development courses for women shall be free in government and subsidized in private skill development centers. 
On the tune of free bicycle to school children the government shall subsidize bicycles to working women and further there should be some interest subvention on the purchase of vehicles for travelling to work places.  
The government must identify the sectors such as finance, food processing, Agriculture, Packing, Printing, Handicrafts, Garment & textile, Bicycle & service sector. In these sectors plans should be made to boost the women workers. This can be linked with finance, subsidy or social security benefits.
For this very purpose, the government may call our organization to assist in any such projects which are very important for the future of our country.  We ardently hope that our request would get your kind consideration and would be treated accordingly."