AISF demands government should pay attention to education for all instead of distracting attention towards CAA, NPR and NRC
Organized protest march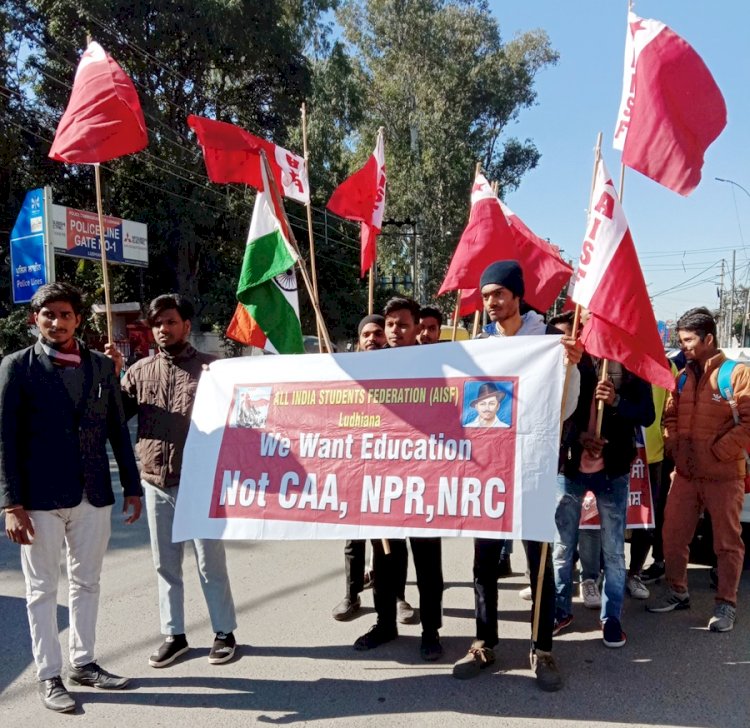 AISF organising a protest march against CAA, NPR and NRC  in Ludhiana.
Ludhiana: The All India Students Federation (AISF) organized a protest march today against CAA, NPR and NRC to save the constitution of India.  The rally was taken out from Arya College gate number one.  
Saurav Yadav, President of Arya College AISF said that there is lot of work to do in the society for the government in the field of education, jobs, health and development of the nation.  But the government only plans to distract our attention from the real issues. We are already citizens of the country and have enough documents like Aadhar card, Voter card, Ration card, PAN card and Passport.  What is the need of a new card now? The Citizens Amendment Act is totally discriminatory with a motive to split the society on communal lines. We demand that the government should pay attention to the real issues of the country like the education for all, job for all, heath for all and security to all sections particularly the women and children.  The CAA would not give us anything they can only make  conflict  between us nothing else. 
Deepak Shah said that through NRC and NPR the government wants to make conflict between Hindus and Muslims. The Ram Mandir matter is closed now so they want to create such issues to create conflicts and garner votes on communal lines. But they would not succeed as people have realized that the government is running away from providing education to all. 
Pradeep Kumar, Arman Mansuri, Saurav Gupta, Abhishek, Nikhil, Mohammad Sahil,  Mohammad Ansari members of All India Students Federation Ludhiana also participated in the protest rally against CAA, NPR NRC. (January 22, 2020)