AIDS Awareness Rally at Panjab University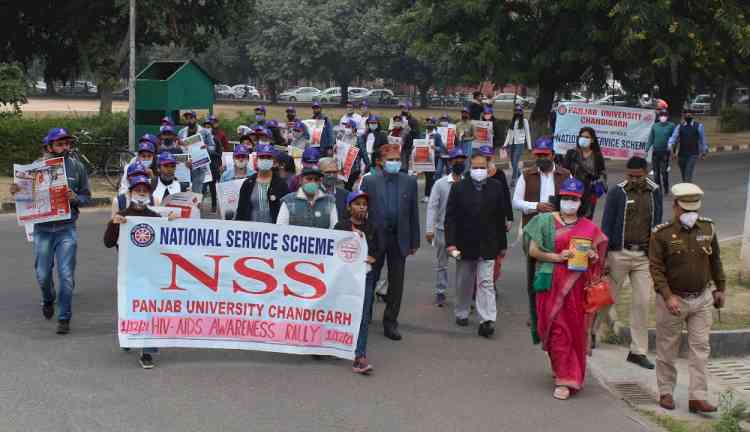 Chandigarh, December 1, 2021: Department of NSS in association with the Centre for Medical Physics, Panjab University, Chandigarh organized an awareness rally on theme 'End Inequality-End AIDS'. The objective of the campaign was to raise awareness about the importance of engaging youth in the prevention and treatment of HIV.
Prof. Raj Kumar, Vice Chancellor, Panjab University flagged off the rally from Gandhi Bhawan in the presence of Prof. V.R. Sinha, Dean of University Instructions, Prof. Ashok Kumar, Associate Dean Student Welfare, Prof. Anju Suri, Dean College Development Council, Prof Deepti Gupta, Dean International Students, Dr. Nidhi Gautam, Warden, GH-5 and Dr. Arun Singh Thakur, Warden, BH-7. The rally concluded at Centre for Medical Physics, Sector 25, PU.
Prof. Ashwani Koul, Programme Coordinator, NSS, PU welcomed all the dignitaries and participants.
More than 70 NSS volunteers including some foreign national students and faculty including Dr. Rajesh Kumar, Department of Physics, Dr. Bhavneet Bhatti, School of Communication Studies participated enthusiastically and distributed pamphlets containing useful information on AIDS.
The event was organized by Dr. Vivek Kumar, Chairperson, Centre for Medical Physics, Dr. Simran Preet, Bio-Physics and Dr. Naveen Kumar, University Institute of Applied and Management Science.