Ahead of monsoon season district administration develops 13 nurseries to boost plantation drive
Now the panchayats having direct saplings supply to overcome the shortage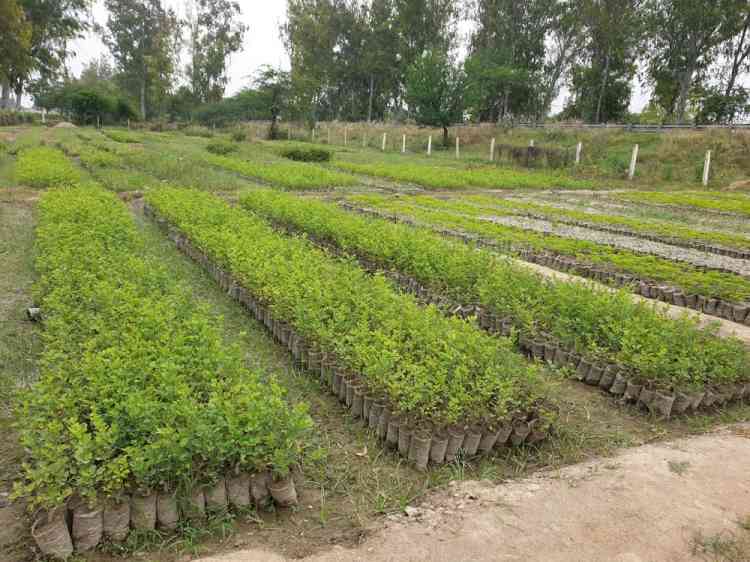 Ferozepur: Achieving the goal of becoming self-reliant in sapling production, the district administration ahead of the monsoon season has established 13 nurseries at various locations across the district.
 

Disclosing more, Additional Deputy Commissioner (Development) Mr. Ravinderpal Singh Sandhu said that the rural development and panchayat department had fixed the target of establishing 15 nurseries out of which 13 have successfully been developed at various locations of the district. He said that these 13 nurseries comprise of one at Mamdot development block, two in Guruharsahai, two in Ferozepur, three in GhallKhurd, three in Zira, and two in Makhu development block.
 

Mr. Sandhu said that the task of setting up these new nurseries was carried out under the Mahatma Gandhi-National Rural Employment Guarantee Act (MG-NREGA) program, which further helped unemployed poor people to have work opportunities during these difficult times.
 

Pointing out further, District Development and Panchayat Officer Mr. Harjinder Singh said that every year at the onset of monsoon, the massive plantation drive takes place throughout the state. He further added that during various plantation drives the department had to depend upon different agencies for the supply of saplings and sometimes faces the shortage of scions, which hampers the drive. The DDPO said that keeping in view this problem, the department has established its nurseries with a variety of saplings. This move helped the department being self-reliant in the production of plants besides enabling it to supply plants in bulk for plantation drive.
 

He said that the nurseries are having a variety of Kaler, Sukhchain, Pipal, Sheesham, Shahtoot, Neem, Dek, and garden flower plants. Mr. Singh said that the Panchayats across the district have embarked on a mission to plant maximum saplings, and the department would ensure that they don't face any shortage. The DDPO said that previous year the Panchayats had planted 550 saplings in each village to commemorate the 550th birth anniversary of Sri Guru Nanak Dev Ji. Now, the supply from these nurseries would ensure the maintenance of these plants by offering a timely replacement, added Mr. Singh.
 

The DDPO said that to combat the pollution and climate change phenomena, the plantation has proved one of the most effective measures as trees help immensely in reducing the carbon footprint.  He called upon people to come forward and plant more and more saplings to provide 'green lungs' to our environment.