Agriculture Department of CT Group organizes flower show
Flower show witnesses 101 entries in events like fresh flower, Bonsai, dry flower arrangement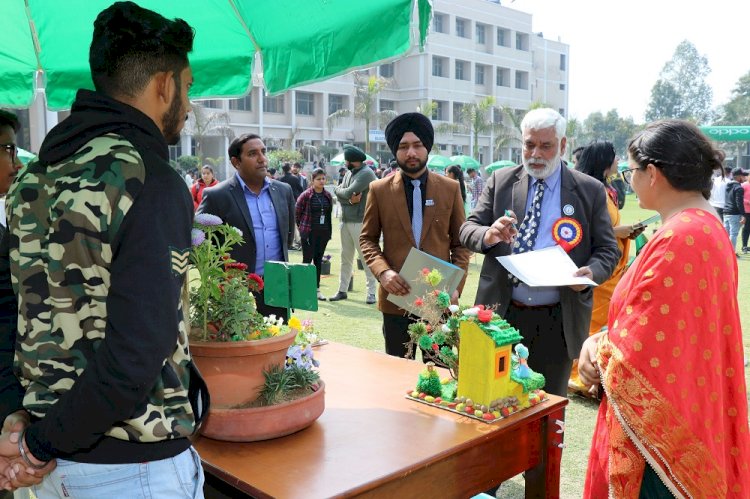 Department of Agriculture, CT Group of Institutions, Shahpur campus organising a flower show . (Visit Gallery of City Air News to see more photographs)
Jalandhar: Department of Agriculture, CT Group of Institutions, Shahpur campus organized a flower show in which different schools and colleges participated like Government Senior Secondary School Kadiyawal, Government Senior Secondary School Jandiala, Lovely Professional University, Innocent Hearts Group and CT Maqsudan.
There were 101 registrations in different categories like fresh flower arrangement, dry flower arrangement, cut flowers, flower ornaments, bonsai, succulents and flower grower in pot etc.
The Chief Guests for the occasion remained Dr. Ramesh Kumar Sadawat, Dean Agriculture from LPU along with Dr. Vipin Chawla Pathani, Assistant Director, Horticulture (PAU). Assistant Commissioner Ludhiana Rajwinder Kaur remained the special guest who also participated actively in flower pot competition and won first prize. The show was inaugurated by these guests along with CT Group Co-Chairperson Parminder Kaur Channi, Managing Director Manbir Singh and Dr. Rubina Gill, HOD, Department of Agriculture along with faculty and other campus officials.
In Flower pots, the first prize was bagged by Rajwinder Kaur , Assistant Commissioner, whereas the second prize was bagged by Onkardeep. The first prize for fresh flower arrangement was bagged by Araph Gautam and Karanveer Kaur stood second.
While appreciating the efforts of Department of Agriculture, CT Group Managing Director Manbir Singh said, "It's a wonderful platform for the young students to showcase their creative skills and to imbibe in them the importance of flowers and other agricultural products."