Agriculture Department cancels license of seed dealer for selling university seeds besides writing against supplier
On farmer's complaint agriculture department raids premises of seed dealer at grain marker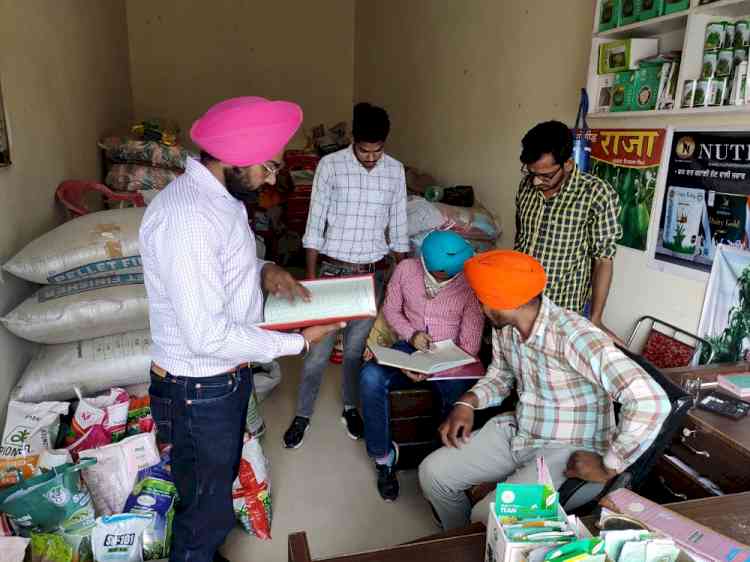 Ferozepur: Ensuring stern action against the hoarding of PAU sponsored government seeds, the Agriculture and Farmers' Welfare Department on Sunday suspended the license of one seed dealer M/S Singla Seeds Company, Grain market Ferozepur Cantt on account of violations of provisions of the seeds control order 1983, seeds act 1966 and essential commodities Act by selling government-sponsored seeds.
 
Divulging more, Chief Agriculture Officer Dr. Guramil Singh Aulakh said that a team comprised of block agriculture officer Dr. Mukhtiar Singh, agriculture development officer Dr. Maninder Singh and Associate director of KVK Ferozepur Mr. Gurjant Singh Aulakh jointly raided the premise of M/S Single Seeds Company at grain market Ferozepur Cantt after receiving complaints from some farmers.
 
He said that there was a complaint about the sale of 125 bags of paddy seeds PR-114 each weighing 24 kilograms following which the team immediately raided the premises of the firm and inspected the records about the sale, stock, and purchase register. The Chief Agriculture Officer further added that all the 125 bags were stamped with the official taglines related to the Punjab Agriculture University however during inspection no stock was found resulting in no sampling of the seeds.
 
Dr. Aulakh further said that these seeds were purchased from the M/S Bimal Kishore and bros seeds merchant, Nehru Market Jagraon vide bill number 1476 dated 8.5.2020 and firms were issued notices but they failed to furnish any satisfactory reply. He said that the department has also written to the concerned authorities in Ludhiana to initiate action against the supplier. He appealed the farmers to immediately contact the Agriculture department in case they suspect or find the sale of spurious or government seeds in Ferozepur district.