Admissions at IIHMR University to go completely online in a phased manner
Last date for the submission of application is 10 May 2020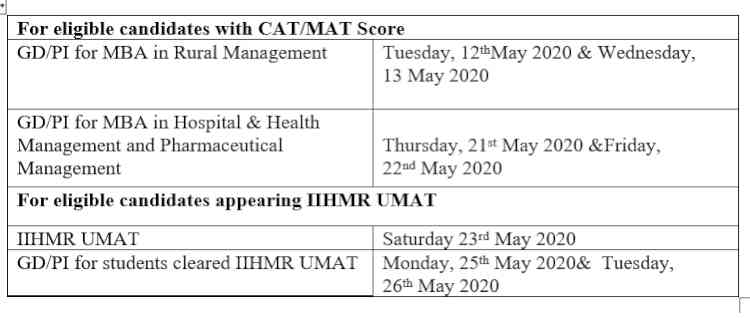 Jaipur based IIHMR University is on the verge of completing online admission process by conducting second schedule of GD/PI digitally for which the last date of submitting applications would be 10 May 2020. Candidates who are willing to pursue their career in healthcare industry can appear for IIHMR UMAT which is scheduled on 23 May 2020. The process of digital GD/PI and online test will commence from 12 to 26 May 2020.
Students who have already cleared national level aptitude test will be directly called for online GD/PI on while others appearing for IIHMR UMAT will be attempting online test of 2.5 hrs.
Announcing the second schedule of online admission process, Dr. Pankaj Gupta, President, IIHMR University, Jaipur said,"IIHMR is bound to deliver best educational opportunities to students in the field of public health. This is our second schedule of online admission process. The first schedule was successfully completed last month. As this is a technologically advanced solution, hence allowing university and its students to complete the entire admissions process into the various management courses offered by IIHMR University."
IIHMR University, which offers research and management programs in health, pharma and rural faculties will connect with students appearing for GD/PI and online test to guide them on the system requirements of the admission process and a team of IT professionals, will be providingtechnical support though out the entire process.