Administration to hold mass vaccination camps on April 3 and 4: DC Ludhiana
7700 Get vaccine today, aim to administer shots to 15000 in the coming days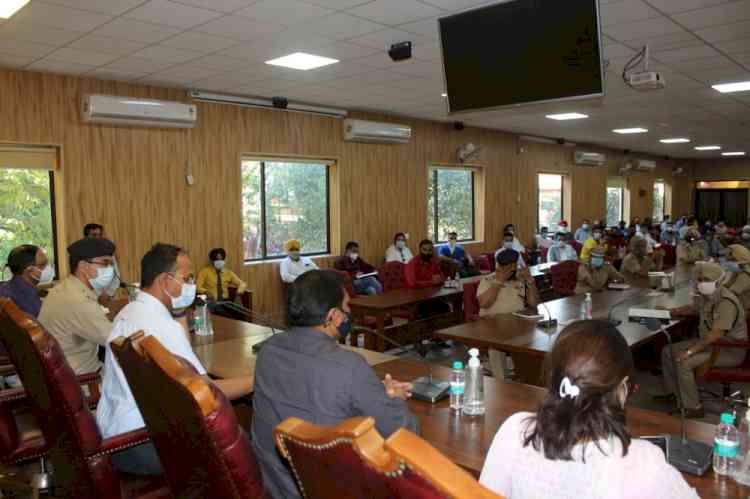 Ludhiana: Amidst the sharp surge in the Covid cases at Ludhiana, Deputy Commissioner Varinder Kumar Sharma on Wednesday said that the district administration would organize special mass vaccination camps on April 3 and 4, covering mostly part of the district to inoculate 15000 people in a single day. 

Presiding over phase-wise meetings with the traders, marriage palaces, hoteliers/MCs/restaurants and others in Police lines, Deputy Commissioner asked that only accelerated vaccination drive can help to build herd immunity resulting breaking the transmission chain of the infectious disease. 
He said that the administration is already running the drive on war-footing level and today, we have vaccinated 7700 people, highest so far in Ludhiana, taking total tally to 159462 residents. 
Deputy Commissioner added through mass camps in every area/ward, we are aiming to administer the dose of the Covid vaccine into 15000 people's arms of the entitled category in a single day. 
Disclosing that from tomorrow onwards (April 1), the vaccine would be offered to all people above the age of 45 years, Deputy Commissioner asserted that we are making concerted efforts to step up the vaccination but only need wholeheartedly support of people in receiving the jab at the earliest. 
Asking the traders that they have contact with largest section of the population, Sharma urged them to dispel misinformation, hesitancy  and rumours surrounding vaccine in their groups so that maximum people can be given shield. 
Sharma stressed that our scientists have left no stone unturned to develop the vaccine and accepting it social responsibility towards the nation, we should get the vaccine to get shield. 
He said when there was no vaccine, people were dying in large numbers and praying for vaccine and now the vaccine is here, people must come forward to get a jab to win the war against the pandemic. 
Over the widespread disregard to the masks, social distancing and other protocols, he said that he would take harsh steps if the situation remains same and may even extend curfew timings and others. 
Prominent among present on the occasion included Joint CP Deepak Pareek, ADC Development Sandeep Kumar, Civil Surgeon Dr Sukhjeevan Kakkar, District Immunization Officer Dr Kiran Gill, besides several others.