Administration eyes 33000 Covid vaccine jabs daily, DC asks IMA to form 100 health teams for speedy coverage
Appeals to support wholeheartedly to prevent the third wave in Ludhiana by accelerating vaccination drive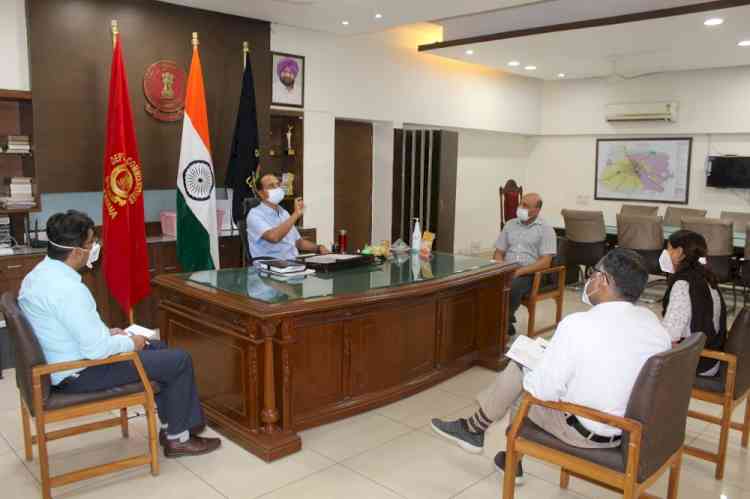 Ludhiana: To further ramp up the mammoth vaccination drive and inoculate 33000 people daily in Ludhiana, Deputy Commissioner Varinder Kumar Sharma on Monday asked the local body of the Indian Medical Association (IMA) to give at least 100 health teams to cover the next one-million target in one month for protecting Ludhiana from the expected third wave of the deadly virus.
Presiding over a meeting in his office, The Deputy Commissioner said that now the supply of the Covid vaccine is far better and the need is just to vaccinate all adults against Covid-19. 
He added that the need of the hour is to further scale up the vaccination drive to prevent any fresh wave of a pandemic by sending teams in every nook and corner of the district.
He added that vaccination is being done on a large scale in Ludhiana and the administration is in action mode to further strengthen this protection system against COVID-19. 
He said that the accelerated vaccination drive would help to build herd immunity thus would break the transmission chain.
Deputy Commissioner Varinder Kumar Sharma said that vaccination is the most effective weapon against this invisible enemy and now it is our responsibility to come forward for the jabs.
The DC also appealed to people to come forward for the vaccination in huge numbers, especially encouraging youths and their parents in the camps so that maximize the coverage. 
Sharma further asked the IMA to share the details of teams with the health departments so that more new inoculation camps can be organized in the district as soon as possible.
Prominent among present on the occasion included Civil Surgeon Dr. Kiran Gill Ahluwalia, IMA Ludhiana head Dr. Dheeraj Aggarwal and others.