Adhering to safety precautions, I-Day function this year to be low key affair amid Covid-19 pandemic: DC
Hoisting flag by chief guest and taking salute from Punjab police contingent to be main features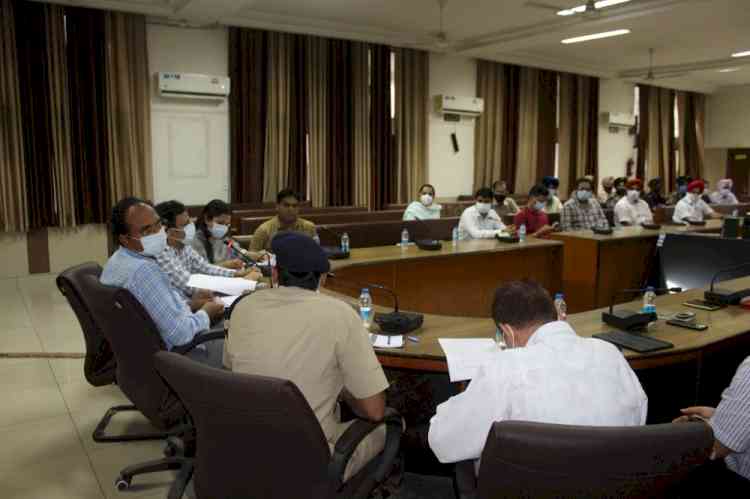 Ludhiana: Deputy Commissioner Varinder Kumar Sharma said that the district level Independence Day function this year would be a low key affair in wake of the Covid-19 pandemic and strict adherence to the safety precautions would be ensured at any cost. 
Chairing a review meeting to the preparations for the mega event, the Deputy Commissioner said that as per the government's guidelines this time gathering of 200 persons has been allowed and the function would be kept simple and precise. 
Referring to the state government's guidelines amid anticipated third wave of the COVID-19, he added that there would be no massive gathering during the event as it used to be in previous years and the contingent of Punjab Police would give salute. 
He also said that so far there would be no other activities like PT shows, cultural events, parades etc in order to maintain the safety guidelines. 
Sharma said that health & safety protocols including social distancing, wearing masks, hand sanitizing, disinfecting the premises would be accorded top priorities. 
He directed the police officials to make sure that their security personnel especially at frisking tasks must follow all the safety protocol to avoid further spread of the virus. He said that full-day rehearsal would be held on August 13.
Prominent among present on the occasion included Joint CP J Elanchezhian, ADC Development Amit Kumar Panchal, ADC General Rahul Chaba, SDMs Dr Baljinder Singh Dhillon, Amrinder Singh Malhi, Assistant Commissioner Parleen Kaur Kaleka and others.