Acting as a path of the spirit at PU
Web lecture by Meeta Vasisht, an Indian, film, television and theatre actress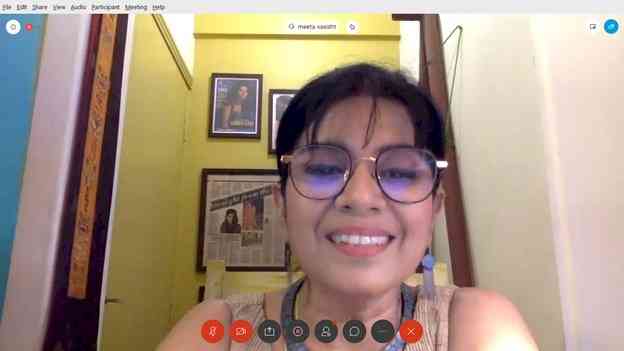 Chandigarh: Panjab University Alumni Association in collaboration with the Department of Indian Theatre organized a web lecture by Ms. Meeta Vasisht on the topic "Acting as a Path of the Spirit".
 
Ms. Meeta Vasisht is an Indian, film, television and theatre actress. A post- graduate in English literature from Punjab University, Chandigarh, an alumni of Department of Indian Theatre, Panjab University and the National School of Drama, Ms. Vasisht has acted in about 60 movies with award winning roles in Mani Kaul, Kumar Sahani and Govind Nihalani movies.
 
Ms. Vasisht spoke about her journey from being a student of literature to the celebrated actress that she is today. She is known for her substantial and strong roles. She spoke about how an understanding of the self helps one become a good actor/actress. And therefore acting brings one closer to one's self. Ms. Vasisht led the participants through a meditation exercise also.
 
Ms. Vasisht has performed in the 75 minute solo theatre performance Lal Ded, based on the life and poetry of the iconic woman mystic and poet of Kashmir Lal Ded. More than 60 shows have been performed in and around India. She spoke about how she started reading and performing about Lal Ded and how it made her more spiritual. Ms. Vasisht also regaled the audience with many anecdotes from her days in Panjab University and her experiences in her career
 
 
The audience asked her many questions about her latest roles, Panjabi film industry etc which she answered enthusiastically. Dr. Labh Singh, our alumni from UBS and other of her contemporaries wished her success for the future.
 
Ms. Vasisht has written, produced and directed in Television and Theatre, and executiveproduced the award winning 'The Name of a River', a docu-feature on Rhitwik Ghatak which won the Arivandan Puruskaram (2002). She has been on the juries of several film festivals. She has been for several years, visiting faculty to the premier film, acting and design institutes in the country (NSD, NIFT, NID and WWI and Head of Department, Acting at the FTII). She has also conducted theatre workshops in London, Birmingham and Damascus.
 
Earlier,Dr. Navdeep Kaur, Chairperson, Department of Indian Theatre introduced and welcomed Ms. Vasisht warmheartedly.
 
A vote of thanks was given by Mr. Dildaar Singh from Department of English and Cultutal Studies. He also spoke to Ms. Vasisht about some of her work. The event ended with everyone thanking her and wishing her success.