Ace Indian athlete Anju Bobby George, and former national athlete Yadvinder Singh take part in engaging online session
Anju had secured a historic bronze medal in the long jump event at the 2003 World Championships in Paris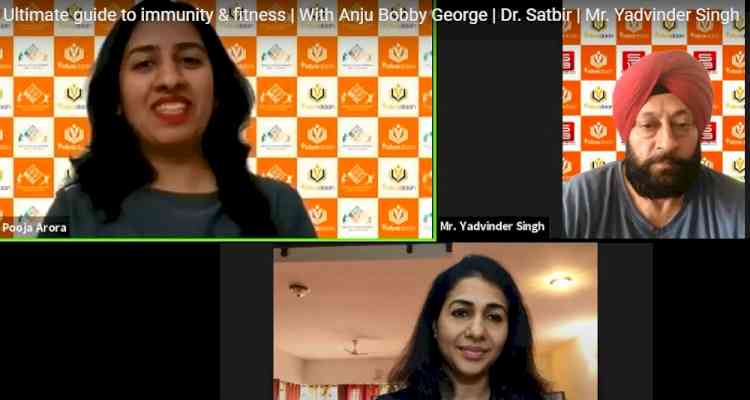 Anju Bobby George along with other speakers during the live workshop 'Ultimate Guide to Immunity & Fitness'.
Chandigarh: "I am aiming to get medals for India in the next junior world championship and 2024 Olympics.  I am working hard with my husband with athletes at my sports academy and I am hopeful that the medal I lost in Olympics, we will get back one day by God's grace in the near future," said India's former ace long jumper, Anju Bobby George who has been training kids & athletes with her husband Robert Bobby George at their sports academy 'Anju Bobby George Sports Foundation' in Bengaluru.
Anju who secured a historic bronze medal in the long jump event at the 2003 World Championships in Paris said this during an online workshop on 'Immunity & Strength an Ultimate Key'. The online workshop was organized by a city-based sports organization Sports 13 in association with Vidyadaan to inspire the youth to adopt a healthy lifestyle. Other speakers in the online workshop were Yadvinder Singh, a former national athlete, and Dr. Satbir, sports medicine consultant & ex Indian hockey team physician cum exercise physiologist.
Yadvinder Singh said during the session , "Owing to our fast paced life we are drawn to an unhealthy lifestyle. To keep ourselves fit, we should exercise for at least half an hour every day. Amid this pandemic, we also need to follow a healthy diet plan and should implement this over 5 meals a day, this will  prevent metabolism from slowing down."
Explaining athletics in her own words, Anju said, "Athletics is the mother of all sports. It has multiple events in it, which I think is the beauty of athletics. Athletics  is something I live for and this is why I am trying to identify and hone talent in the sport."
Anju added, "After my retirement, my husband and I have started training young kids and athletes at our sports academy. We are striving hard to create better infrastructure and a conducive environment for the budding athletes, which we didn't get back in the 90s, in India.  For me, training the students is the best way to pay a  tribute to the sport which has given me so much."
During the workshop, Yadvinder also gave a live demonstration of yoga asanas such as kapalbhati, anulom-vilom, pranayama, etc, and elucidated their benefits to people. He further advised that meditation is the best medicine to reduce stress and anxiety.
On being asked how you deal with pressure, Anju replied , "I try to imagine or visualize things. I prepare myself for the worst and best both.  I never presume that only the best thing will happen. So visualization helps me prepare well for any outcome before heading for the main task."
She further advised kids and teenagers to not spend too much time on gadgets and phones and suggested inculcating physical activities or sports in their lives.
Yadvinder Singh, who is also the founder of Sports 13, has announced to bring more sports celebrities in the upcoming workshops with Vidyadaan to keep motivating the younger generation. He further revealed that he has been preparing under the guidance of Milkha Singh and Dr. Satbir for the World Veteran Athletic meet which is going to be held in Canada, in which he will take part in the 100 and 200 meters events.