AAP donates Rs 2 lakh to family of martyr of Kisan movement Gajjan Singh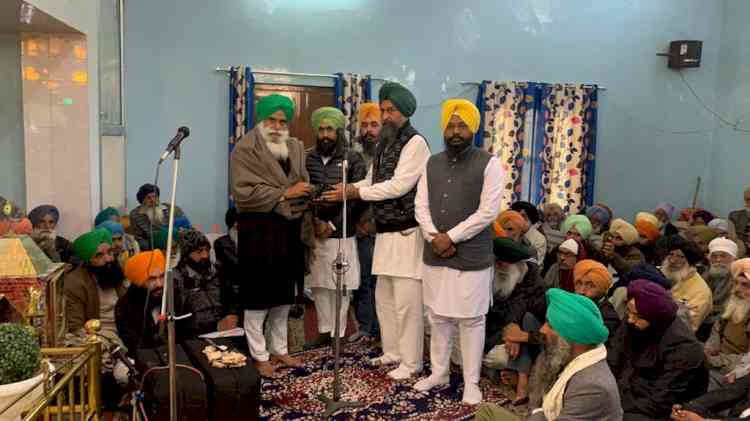 To stand with the country's `annadata' in distress our primary duty: Kultar Sandhwan
Samrala/Ludhiana: Aam Aadmi Party MLA and State Kisan Wing President Kultar Singh Sandhwan, Jai Krisan Singh Rouri, Manjit Singh Bilaspur, Kulwant Singh Pandori and Amarjit Singh Sandhoa on Wednesday visited the native place of martyr of kisan movement Gajjan Singh and paid their tributes.
On this occasion an amount of Rs. 2 lakh collected in collaboration with AAP's NRI wing for Punjab was given to the martyr's family through the state president of Kisan Union Sidhupur Jagjit Singh Dalewal.
Speaking on the occasion Kultar Sandhwan said that the Modi government was harassing the farmers of the state and the country due to its stubbornness, forcing millions of farmers across the country were forced to sleep on the roads amid cold nights of December. He said that the farmers of Punjab, who had fed the whole country, were being mistreated at the hands of the present government at the Centre.
Attacking the Prime Minister Narendra Modi and Agriculture Minister Narendra Tomar, Sandhwan said that calling peaceful protesting farmers extremists and anti-national exhibited their mental bankruptcy. He said that Prime Minister Narendra Modi should address this issue by holding talks with farmers sitting on the border sooner than later.
Others who were present on the occasion included Jagtar Singh Dayalpura Senior Leader Halqa Samrala, Block President Sukhwinder Singh Gill, Kashmiri Lal Samrala, Major Singh Baliun, Malkit Singh, Sukhwinder Singh Khatran and others.