A story of determination and courage
Aakash Institute student Pranav Rajesh Todankar from Raigad district of Maharashtra defies odds to fulfil his dream of becoming a doctor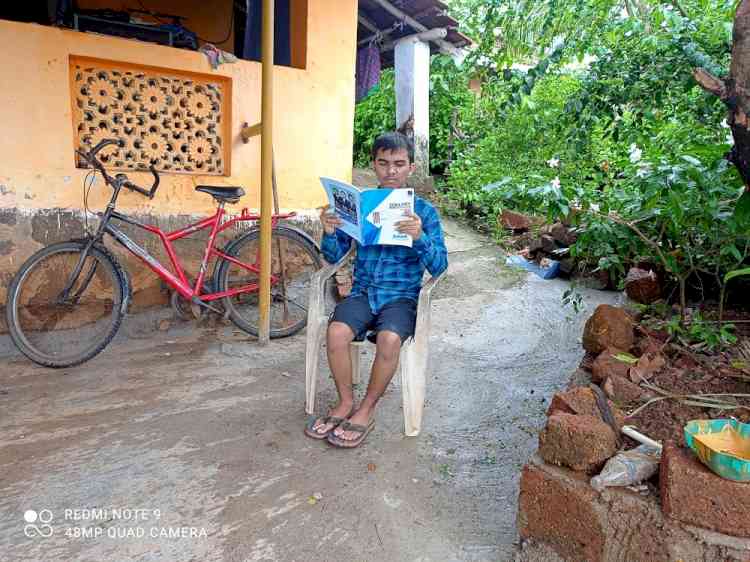 Pranav Rajesh Todankar from Raigad district of Maharashtra.


Mumbai: The Second Wave of the Covid-19 pandemic has had a lasting impact on almost everyone. For students particularly, the lockdown has caused deep distress – the constant worry about exams being rescheduled, preparing for competitive exams online as well as the fear of an uncertain future. However, this period of grief and struggle has also given rise to many stories of courage among the student community that are a true inspiration for all. Of fighting against a situation and overcoming it and of finding opportunity in adversity.
One such story is that of 18-year-old aspiring doctor Pranav, a student of Aakash Institute's Nerul branch in Mumbai.
Pranav's father is a primary school teacher and takes care of a family of five. Hailing from Walvati village in Raigad district of Maharashtra, the place suffered immense damage due to the landfall of Cyclone Nisarga last year. Unfortunately, the entire home of Pranav got shattered due to the cyclonic storm. The village had no electricity for more than a month due to the displacement of electric polls. After losing the comfort of the only roof they had and with no access to electricity, Pranav and his family faced a tough time in making both ends meet.
While Pranav was putting up in Mumbai and was coaching with Aakash Institute, he had to return to his village merely after attending three physical classes in the Institute due to the lockdown. With only one smartphone in the house and erratic internet services owing to living in a remote area, Pranav didn't lose hope but continued to put up a brave fight towards achieving his dream of becoming a doctor. Pranav wants to pursue his medical career by enrolling in some reputed Government medical college in Maharashtra.
Stating his struggles, Pranav said, "I have to struggle a lot to attend my online classes as we live in a remote area and there are often issues with electricity and network. Last year, I travelled nearly 4kms away from my house to a nearby taxi stand to attend Aakash online classes since the place had internet connectivity. I continued to do it for almost a month till my house was rebuilt and electricity was restored. Also studying from a smartphone is at times difficult since everyone needs it time to time, and we don't have access to laptop."
Aakash Institute has made special efforts to ensure that students from Tier 2 cities and rural areas who were badly hit when the lockdown struck, are able to continue their studies and are not left behind. Teachers across all branches in India are making constant efforts to mentor the student, solve their doubts and help them so as to overcome their infrastructure needs and any problems thereof. 
Mr. Aakash Chaudhry, Managing Director, Aakash Educational Services Limited said, "It is overwhelming to see how students at such a tender age is putting up a brave fight against the various odds. Their determination to achieve their dream is a story in itself. While the lockdown has brought hard times for many, it has brought out gems like Pranav. At Aakash we are committed to provide the best learning experience to our students who are determined to achieve their goals even during such difficult circumstance. We put in efforts to reach out to such exceptional students living in remote areas while providing as much support as possible. I wish Pranav all the best for his NEET exam hoping he fulfils all his dreams."