A cancer awareness seminar
50 Rotary Club members attend cancer seminar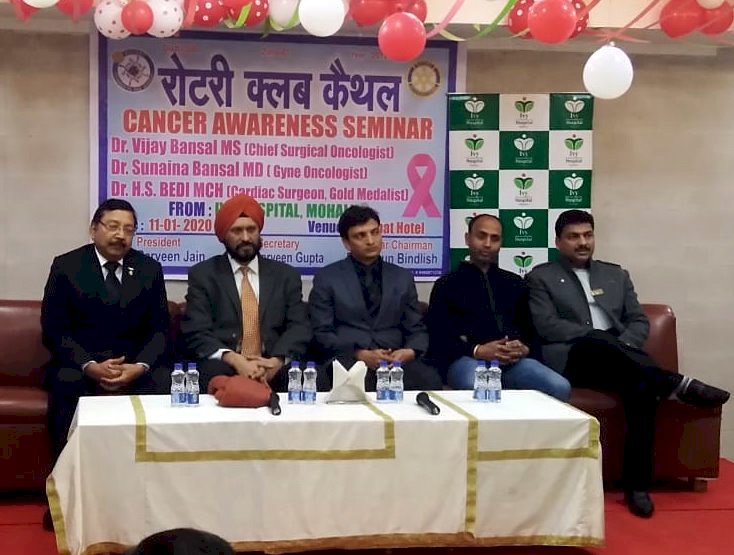 Kaithal: As many as 50 members of Rotary Club, Kaithal attended a cancer awareness seminar by Ivy Hospital, Mohali at a hotel here last night.

Among others, Parveen Jain , Parveen Gupta and Arun Bindlish president, secretary and project manager of club respectively were also presented.
Speaking during occasion, Dr. Vijay Bansal advised to shun cancer myths and go in for early detection, diagnosis and treatment of cancer. Regular self-examinations, screening tests and check-ups by oncologists will help in a long way in treating cancer.
"Some people are afraid of taking cancer treatment at an older age. In fact, old age is not an impediment in cancer treatment. It is the patient's general health condition and his performance status which determine his suitability for cancer treatment at an old age."
Even if there is no family history of any cancer, one still can get cancerous disease as cancer could be caused due to many other factors such as pollution, unhealthy life style, smoking, drinking, pesticides, chemicals etc., Dr Bansal pointed out.
During occasion, Dr.Harinder Singh Bedi, director cardio vascular endovascular & thoracic sciences at Ivy gave a health talk on 'How to be heart smart'.
He said that cardiovascular disease, which includes heart disease & stroke is the world's number one killer and claims 17.5 million lives every year.
By controlling important risk factors like tobacco use, physical inactivity and unhealthy diet, we can prevent at least 80% of premature deaths caused by heart disease and stroke, opined Dr Bedi who is a pioneer and innovator of the beating heart technique and a holder of the Limca Book of World Records for this new technique .
Exercise daily for about 30 minutes and reduce stress in your life through yoga and meditation.  We need to change our diet to a predominantly vegetarian diet, restrict the use of saturated fats like desi ghee & butter, reduce the intake of highly processed foods, junk food and fried food, opined  Dr Bedi.