7 students clear UGC Net Exam
2 students also cracks JRF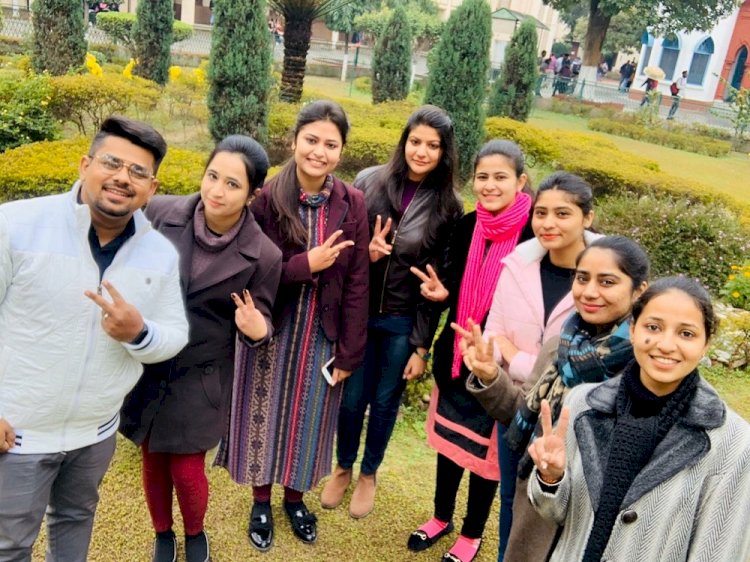 Jalandhar: Seven students of Commerce and one from English department of D.A.V College, passed the UGC Net Examination. 2 students of commerce among them Sarandeep and Naina also cracked JRF.
The students were honoured by Principal and whole commerce and English Department. 
The best teaching of a college is identified by their academic achievement and the college has proved it with its finest achievement. In the year 2019, in the UGC Examination results, two students of the College from Commerce Department got the best marks and passed the JRF and total eight students cracked UGC NET examination. 
Students of the College of Commerce Department Sarandeep Kaur (200) and Naina (196) cleared JRF, Kanika Chadha (184), Ankita Pathania (184), Navdish Gambhir (182), Aashna Sonik (156), Kamal Bajaj (156) and from english department, Jagdeep Kaur (146) cleared UGC examination.
Naina and Kanika Chadha are the University Gold Medalist. Both along with Kamal Bajaj and Jagadeep Kaur are working as a lecturer in DAV College, whereas through college placement, Ankita is working in the HDFC and Navdish is teaching in Innocent School. 
For her success Prof Naina shared that in order to reach your goals planning is the most important thing.Without it you won't succeed. For better results focus on the weakest part of the syllabus, while doing this your preparation will improve. Sarandeep on her success said, While solving question always keep in mind, too much time should not be spend on a single question, always read the option given in the question . All of this will help you score good in exam. 
Kanika said, exam of UGC is a tricky thing. Most important factor to focus upon is time. In exams like this every second counts.In order to prepare for the exam, give great consideration to NCERT books, so that your concepts get cleared. Ankita said, there are certain questions in the exam which needs full knowledge of the topic, half knowledge won't help you score good, you can use extra books available in market to prepare for the exam. 
Navdish stated that there is no short-cut to clear UGC. Be confident and stick to your plans. Be regular in studies and never give up. Apart from this, time yourself. If you intend to complete a topic in a set number of days, do not deviate from that. Aashna, studying in M.Com IVth semester on clearing her test, stated, do not keep things for the last day. In fact, in the morning of the exam day try to keep yourself relaxed and away from books as you may get confused or even forget what you know due to nervousness. 
Kamal said, be confident and stick to your plans. Be regular in studies and never give up. Apart from this, time yourself. If you intend to complete a topic in a set number of days, do not deviate from that. But do not cut down on your entertainment either, otherwise, you will get frustrated. Take short breaks and time yourself while practicing questions. Jagdeep Kaur stated that made sure that do not let anyone else's success hinder your preparation. Therefore, you should just remain focused and get on with your preparation plan.
Principal of the college Dr. S. K. Arora, congratulated the students, teachers and their parents. He said that it is the result of their hard work and the guidance of their teachers that they are able to clear the exam. Principal Arora prayed to almighty for their success in every phase of life. On this occasion Vice Principal and Head of the Department of Commerce Prof. Prof. Arun Mehra, head of English Department Prof Salil Kumar Uppal Prof. Rajiv Sharma, Prof. Ashok Kapoor, Prof. Manish Khanna and all other professors of the Commerce and English Department congratulated the students for their success and gave them best wishes for their bright future.