4th Edition of painting competition organised by Mayank Foundation
Participants from Ferozepur, Ludhiana, Amritsar, Chandigarh and Ambala bag maximum prizes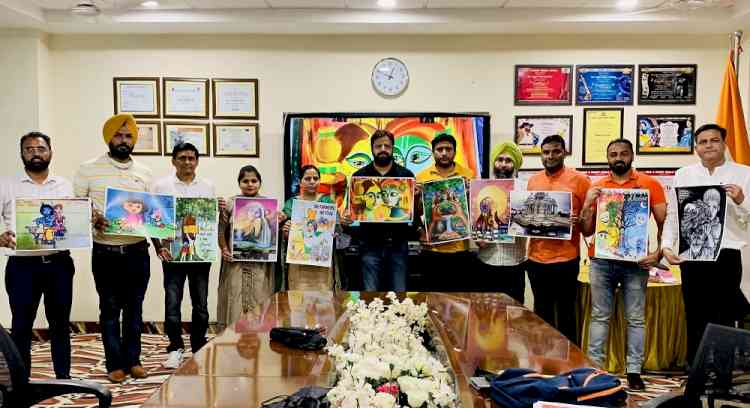 Ferozpur: Mayank Foundation, Ferozepur successfully organised 4th Mayank Sharma Memorial Online Painting Competition. In this fourth edition of the competition most of winners were from Ferozepur, Ludhiana, Amritsar, Chandigarh and Ambala. This competition was organized under the leadership of Anirudh Gupta, President of the organization.
 
Giving details, Project Convener Dr. Gazal Preet Arneja said that despite the adverse circumstances of pandemic due to Covid-19 during the year 2020 and 2021, this competition was organised on virtual platform to help engage youth in co-curricular activities while staying safe at home. With passage of time, this painting competition has gained popularity to the extent that it has reached at International level. Founder member Deepak Sharma told that the participants shared their paintings by uploading on Telegram app. A panel of experienced artistic 20 jury members was formed to evaluate the paintings.
 
The result of this competition was announced live on Facebook page of Mayank Foundation. During this live session, the winning paintings were displayed on the big LED screen. Total 50 winners and 50 consolation prizes were declared in all five categories. The schools which bagged winning and consolation prizes, viz BCM Schools Ludhiana (7), Army Public School Ambala (6) , D.C.M. Presidency School Ludhiana (5),Bhawan Junior School Chandigarh (4), Shivalik Public School, Patiala (4), Das & Brown World School Ferozepur (3) and Dev Samaj College, Ferozepur (3).
 
The themes of this competition were 'My Favorite Cartoon Character' from the first category, 'Clean India Green India' from the second category, 'Love for Nature' from the third category, 'Artificial Intelligence' and 'History and Heritage' for the fourth and fifth category respectively. The participants made the maximum number of paintings on the themes of 'History and Heritage', 'No farmers no food' and 'Colors of Life'. Participants from South India made paintings in their own distinctive style with vibrant colors.