4 students of DAVIET selected for  3AIP Services Private Limited
The students are from electronics and communication engineering branch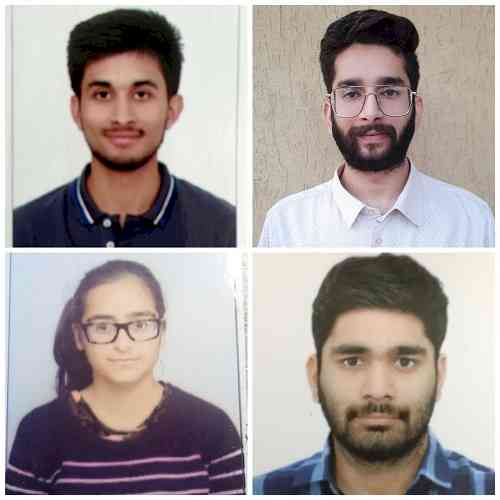 Jalandhar: The 04 students from Electronics & Communication Engineering Branch Of of DAV Institute of Engineering & Technology (DAVIET), Jalandhar who will be passing out in July 2021 were selected for 3AIP Services Private Limited at a Salary Package of 3.00 LPA.
3A IP is a global firm that provides customized solutions for intellectual property search, IP licensing and monetization, patent prosecution, IP start-up business plan, 3A IP focuses on maximizing returns on investment of their clients' IP assets. 3A IP takes the responsibility for preparing an utmost quality work reports where technical intelligence is captured and served in the form of user-friendly reports to support critical business decisions.
 
The Company has selected the students after rigorous rounds comprising of Online Test, Technical and HR Interview.
The ecstatic students while giving the details of the offer shared that his designation in the company will be Patent Research Analyst and their responsibility will be to identify the research analyst needs to perform search or analysis on technologies in hand and provide consultation to Inventors. The selected students Chirag Narang,Ajooni Walia,Vishesh Saini and Sahaj Jolly had shared that they had started preparing for the placement drive early and concentrated on developing their interpersonal skills along with the enhancing their knowledge about the core areas.  They shared that to suit the needs of the company a special effort was done to learn Technical and Analytical Skills.

Mr. Sushil Prashar, Head Department of Training and Placement appreciated the hard work put in by students and highlighted that special efforts were done to make them ready for interviews. He also informed that as per company officials DAVIET students of Electronics & Communication Engineering was their 1st preference in the entire Punjab region.   
Dr. Manoj Kumar, Principal DAVIET congratulated the students on their success. He wished them the best of luck for all their future endeavors'.  He highlighted that DAVIETians have always been passionate about placements and special efforts are done to make them industry ready.  He stated that the success of selected students stands for the hard work and commitment of DAV administration to provide its students the best possible exposure so that they can make a mark for themselves. He also congratulated Department of Training and Placement and Faculty who guided the students and urged them to keep up the good work.