3rd Edition of the marketing fest at SCD Government
Nearly 70 stalls were put up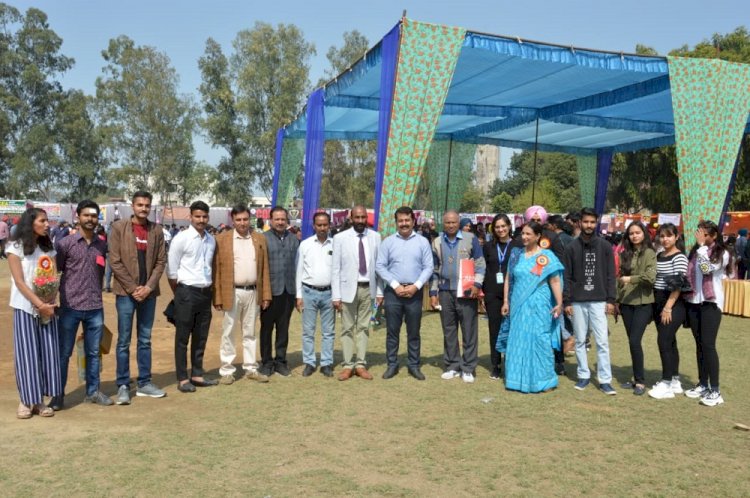 Ludhiana: As part of Centenary Celebrations, the much awaited Finishing School of SCD Government College, Ludhiana was  organised today in the campus from 10am to 5pm under the able guidance and leadership of Dr. Reetinder Joshi, co- ordinator of Finishing School who has creditably organised the 3rd edition of the Fest. 
Nearly 70 stalls were put up to showcase the marketing and entrepreneurial skills of the students, the profits of which were collected by the students themselves. A special feature of the Fest were stalls put up by NGOs. 
Ashirwad - the North India Cerebral Palsy Association that caters to children and adults with developmental disabilities & Divine School that works towards arranging sponsorships for school admissions of under privileged children. Students of BSc IInd of the college - Amit Sharma & Diksha of the college had put up this stall of Divine School. 
Mr. Sanjay Goyal of Lakme Beauty Salons was the chief guest in the morning. In the afternoon Mr. Rahul Ahuja, Chairman and Director of CII (Confederation of Indian Industries) & CMD of Rajneesh India limited graced the Fest.  
Stalls with innovative names like Virasat e Punjab, Bhukkad Street, Food Fusion Corner, Grab the Fab, COBRA Gang, Funkendra,  Khaobali, Saag and Makki ki Roti, Lasting Impressions, Back Benchers, The Underdogs, Team Reinhart sponsored by Decathlon, The Creative Crew, Laziz Khana, etc. had on offer an array of mouth watering fare, fulfilled games with attractive prizes and cash backs, snacks, chocolates, accessories, etc. all prepared by the students themselves, fresh and wholesome.  Some stalls also displayed articles of clothing, bags & accessories. There were also a couple of stalls of books, Competitive Examinations, Panacea,  
The SCD students  and teachers with their family members came in large multitudes to be a part of this Fun and Food Extravaganza which saw a massive footfall of 3500 people who took entry by ticket. Bhukkad Street was adjudged the best stall.