3rd day of 7-day online international conclave on global perspectives on education in covid-19 times
Dr Vijay Singh Thakur, Associate Professor, Dhofar University, Salalah, Oman was the keynote speaker for the day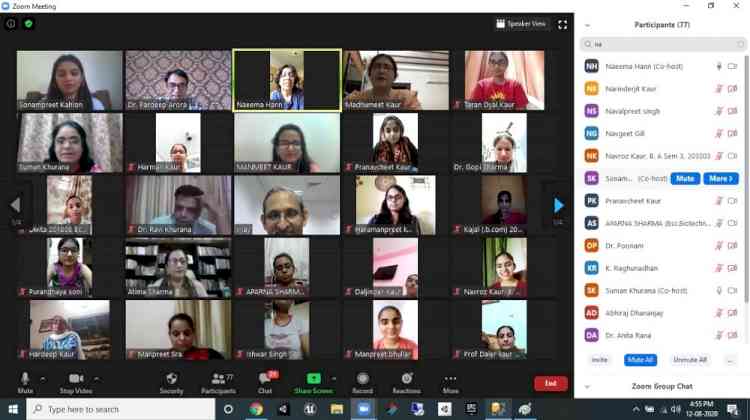 Jalandhar: Kanya Maha Vidyalaya successfully entered into the third day of Seven Day Online International Conclave on Global Perspectives on Education in COVID-19 Times: Challenges & Opportunities. 

The third day of the conclave started with the lighting of lamps, in a virtual manner, keeping consistent with the traditions of KMV. Dr Vijay Singh Thakur, Associate Professor, Department of English Language & Literature, Dhofar University, Salalah, Oman was the keynote speaker for the session. The topic of his lecture was Promoting English Language Skills and Critical Thinking through the Creativity of Cartoons. During the session, Dr Vijay elaborated on the concept that how teachers can make the learning more easy with the help of cartoons or pictures during the classroom learning. He stated that this kind of practice will also encourage the students to develop critical thinking and will enable them to think out of the box. Stressing on the importance of visuals, Dr Vijay said that one picture is equal to thousand words, as the visuals contains more potential of conveying the message to the students in comparison to the other mediums. He further stated that this method of learning will automatically create a sense of curiosity and interest in the minds of the students and, as a result, the classroom learning can be made more happening and interactive. Dr Vijay also showed many cartoons and sketches to the participants in order to give a demonstration of visual learning. After the session many inquisitive students asked their queries from Dr Vijay and they were well responded by the resource person. 

Principal Prof Dr Atima Sharma Dwivedi averred that visual learning is a part of today's learning system as students automatically shows a lot of interest in visual aids that a teacher uses during the classroom learning. She further maintained that during the current times when the education has completely moved towards the digital platform, this kind of approach towards teacher student learning can prove to be very beneficial for the understanding of the students. After the session, a video showcasing the Hostel of KMV was also played that depicted the beauty of the hostel of the college. Dr Madhumeet, Head, PG Department of English gave Vote of Thanks to all the participants. Mrs Sonampreet Kahlon was the moderator for the day.