37-Kg heroin worth Rs.185 crores recovered by Ferozepur police this year
Police tightens the noose of the drug peddlers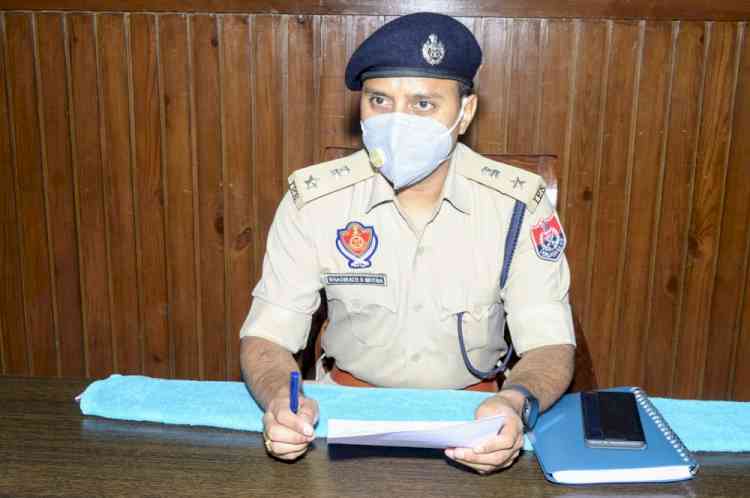 Bhagirath Singh Meena, SSP, Ferozepeur.
Ferozepur: Tightening the noose of the drug peddlers, the Ferozepur police have arrested 244 drug peddlers in 177 cases registered under NDPS Act at various police stations this year. Besides, 116 persons were booked under Excise and Taxation act in 95 cases. 
Giving details, Bhagirath Singh Meena SSP said that besides, the police also arrested 10 proclaimed offenders (PO) and 54 absconders also.
Meena said that a special drive was initiated from June 15 to June 26, during which 48 persons were arrested in 37 cases. "Similarly 18 persons were arrested in 16 cases under excise and taxation act. There are several villages which have been identified as the "Drug spot". In these villages including Basti Guru Karam Singh in Guruharsahai sub-division, Basti Machhian in Zira sub-division, Village Muthian Wala in Arif ke, Village Sherkhan in Kulgarhi block, Village Palla Megha, Village Chhanga Khurd in Mamdot block, Basti Bhatian in the city area, Basti Isa Nagar in Makhu, special teams were sent and raids were conducted", said Meena. 
Notably, during this year 37.706 Kg heroin, 9.584 kg opium, 106 Kg Poppy, 333950 intoxicating tablets and drug money worth Rs. 14,95,150/- has been recovered by the police.