32-acre Jainpur Sports Park to be largest international standard sports park of state: Bharat Bhushan Ashu
Says tenders related to 32-acre Jainpur Sports Park to be floated by January 2021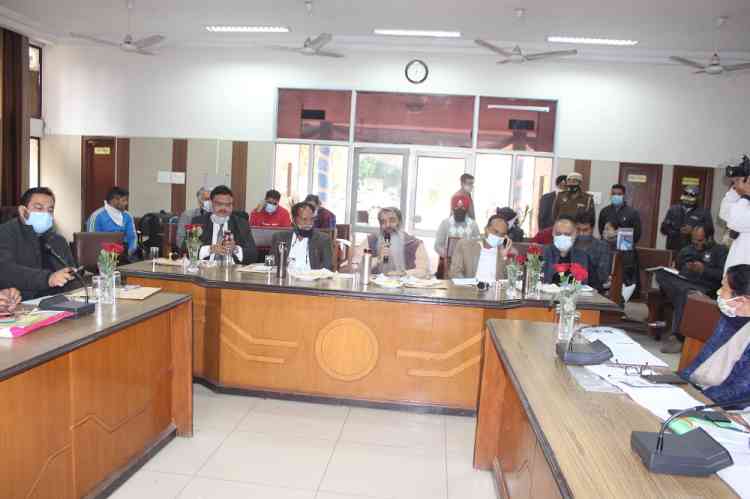 Ludhiana: Punjab Food, Civil Supplies & Consumer Affairs Minister Mr Bharat Bhushan Ashu today informed that the 32-acre Jainpur Sports Park would be the largest international standard sports park of the state, for which the tenders would be floated by January 2021.
A review meeting regarding this project, as well as projects related to upgradation of all existing sports facilities, was held at Bachat Bhawan, here today. This meeting was also attended by Mayor Mr Balkar Singh Sandhu, Ludhiana Improvement Trust Chairman Mr Raman Balasubramaniam, Senior Deputy Mayor Mr Sham Sundar Malhotra, Deputy Commissioner Mr Varinder Kumar Sharma, MC Commissioner Mr Pardeep Kumar Sabharwal, MC Councillors Mrs Mamta Ashu, Mr Sunny Bhalla and Mr
Gurdeep Singh Neetu, along with several prominent Ludhiana players and representatives of all sports organisations.
It is pertinent to mention that a sports park is coming up under the Ludhiana Smart City Ltd on 32-acre land at village Jainpur, where a garbage dump existed once. The design of this project has been prepared by Architect Mrs Shubham Poply, Mr Manoj Poply.
Hockey Olympian Mr Hardeep Singh Grewal, Dronacharya awardee Mr Baldev Singh, Mr Teja Singh Dhaliwal from Ludhiana Basketball Academy, Mr Jagbir Singh Grewal, LDCA president Mr Satish Mongal, Mr Balkar Singh Brar, Col Jagdish Singh Brar and Mr Gurinder Singh Garcha from shooting association, Mr Parvesh Chander Sharma from weightlifting association, Mr Ajay Sharma from Swimming Association, Dr Dharam Singh Sandhu from Yoga association, Mr Bobby from Football Association, Mr Rajinder Singh from Cycling Association, besides several others, who attended today's meeting appreciated the efforts of Mr Bharat Bhushan Ashu for organising such a meeting for the first time ever.
During the meeting, Mr Bharat Bhushan Ashu informed that this sports park would have playgrounds for cricket, football, hockey astroturf, olympic sized swimming pool, olympic sized football ground along with a synthetic athletics track, 4 acrylic basketball courts, 4 lawn tennis astroturf courts, 3 olympic sized volleyball courts (one mud base and two sand base), 4 lane outdoor archery range, 50m indoor shooting range, 6 badminton courts, 2 squash courts, 2 boxing rings, 4 table tennis tables, 2 wrestling rings, gymnastics area, a billiards room, a weightlifting complex, along with a 3.5-km long and 15-feet wide cycling as well as a pedestrian track. Besides, this sports park would also have a club area for sportspersons with refreshment lounge, children zone, yoga pavilion.
Mr Ashu informed that this sports park would also have first Parkour park of the state. Parkour is highly advanced form of physical fitness and psychological wellbeing.
Besides, a new table tennis court is also coming up near Rakh Bagh, whose architectural layout has been prepared. He informed that very soon, the two open basketball courts at Ludhiana Basketball Academy would be made indoor. He said that the DPR in this regard has already been prepared and the work is expected to start soon.
He further stated that he is committed to upgrade all existing sports facilities in the city. He said that the projects include laying of a new athletics synthetic track at Guru Nanak Stadium, indoor swimming pool, upgradation of the Shastri Hall, upgradation and repair of astroturf and a velodrome (cycling track) at PAU etc.
He said that the main aim of today's meeting was to have discussions with all the stakeholders so that the sportspersons can give their valuable suggestions so that it would become one of the best equipped sports park of North India.
Mr Ashu assured that more such meetings would be organised in the future and he would personally ensure that all sportspersons and sports associations are permanently involved during the construction of this sports park.
He further said that the Capt Amarinder Singh led Punjab government is committed for carrying out overall development of the state. He said that the projects under Ludhiana Smart City project would be completed on priority basis and within the set time frame.