300 PU Hostel Residents connected through online meeting
It included very informative and inspiring talk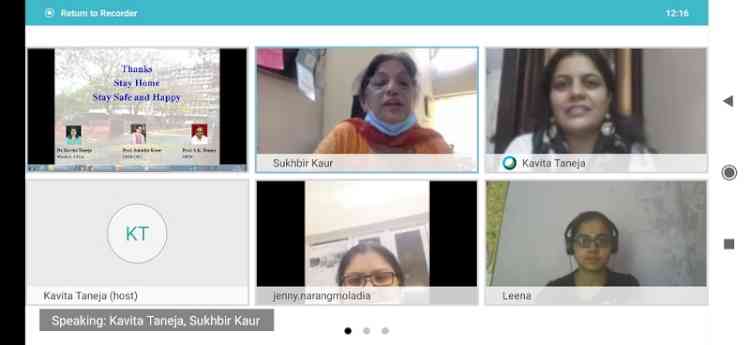 Chandigarh: Panjab University Girls Hostel 4 (Kasturba Hall)  organized 1st webinar in the series  for the PU hostel residents today on the topic "Sharing secrets to well being in present Covid-19 scenario" in order  to take maximum advantage of e-platforms during this time of Covid19 pandemic to connect and learn ways to tackle the present scenario for the welfare of PU students..
It included very informative and inspiring talk by DSW (Women), Prof.  Sukhbir Kaur. She emphasized that healthy food, positive mind  and exercise especially walk is the key to boost our immune system and we should resort to rich Ayurveda to stay fit. The residents interacted and were glad to get their diverse queries resolved while at home by DSW(W) and wardens in this pandemic.
The convener of webinar, Dr. Kavita Taneja, Warden GH4 encouraged the residents to utilize this time period for polishing their creative skills and exploit some innovative tools, technologies and platforms to cement their innovations for the betterment of academics and society.
Another endeavour in chain of events today were interactive sessions conducted by Dr. Kamla, Warden Girls Hostel 2, Dr. Namita Gupta, Warden Girls Hostel 6 and Dr. Anupama Bahri, Warden Girls Hostel 8 to motivate residents to stay happy, healthy and learn new skills while at home. The residents shared their determination about fighting this Pandemic with social distancing and learning through virtual classrooms. They were happy to connect with their wardens and fellow residents.
The online meeting initiative planned by DSW Prof. S. K. Tomar and DSW(W) Prof. Sukhbir Kaur was aimed at facilitating hostel residents to stay physically, mentally, spiritually, socially and emotionally healthy during this pandemic scenario. Nearly 300 students, wardens and hostel staff joined the interactive sessions and webinar virtually.