30-Bedded govt hospital in Jawaddi becomes operational
Hospital to provide all facilities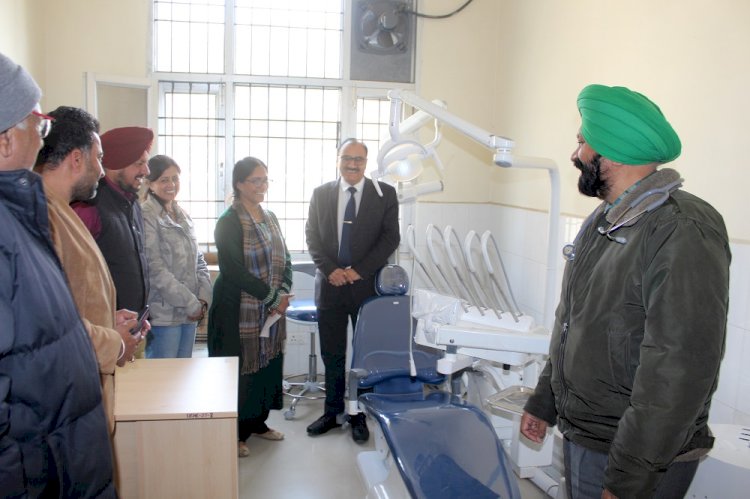 Ludhiana: In another good news for the residents of Ludhiana (West) constituency, the 30-bedded government hospital in Jawaddi area have become operational. Mrs Mamta Ashu, MC Councillor and wife of Cabinet Minister Mr Bharat Bhushan Ashu, today visited the hospital and informed that this hospital would have all facilities such as operation theatre, private rooms, emergency facilities, trauma ward etc.
Civil Surgeon Dr Rajesh Kumar Bagga was also present on the occasion.
It is pertinent to mention that this 30-bedded government hospital has been lying non functional for the last several years and it was only after the efforts of Mr Bharat Bhushan Ashu, that it became operational.
Mrs Mamta Ashu informed that a dispensary of ESI Hospital was shifted into this hospital building few months back and since then, it has been fully operational and a large number of area residents are visiting for treatment. She said that new ultra modern equipments have been shifted/installed here.
She informed that this hospital was a long pending demand of the area residents, especially those from weaker sections of society. She said that Emergency Medical Officer (EMO) Dr Surinder Kaur along with four specialist doctors have been deputed in this 30-bedded government hospital, which would be like a branch of the main civil hospital.
Mrs Ashu informed that the specialist doctors deputed in this hospital include a paediatrician, medicine, dental, gynaecologist and a pharmacist, along with other staff. She said that the OPD facility has been started from today onwards, whereas the formal inauguration of this hospital would be held in coming few days. She informed that for providing facilities such as X-Ray and others, a radiologist would also be deputed in this hospital shortly.
Area councillor Mr Dilraj Singh said that earlier the residents had to go to private hospitals for their treatment, while the main civil hospital is several kilometres from this place. He said that now with the opening of this hospital, people can get healthcare facilities in their own area, and that too at nominal rates. He said that this project has been possible only due to Mr Bharat Bhushan Ashu's efforts.