25-Days perfect summer camp of cultural varieties organised by Punjab Cultural Society concludes 
The youngest female participant, namely Guribadat Kaur, was merely 3-year-old and she was the main attraction in the entire camp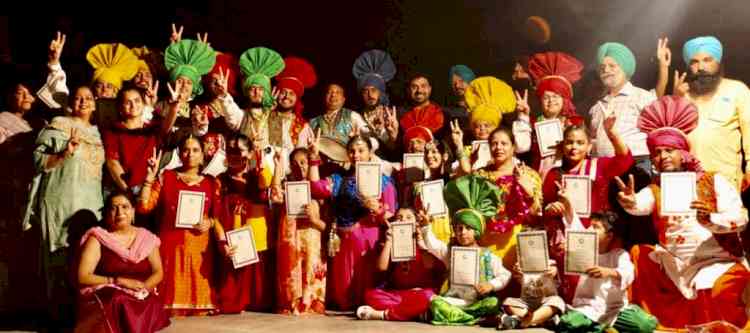 Student and President Ravinder Singh Rangwal seen present at the concluding ceremony of Punjab Cultural Society's Summer Camp at Ludhiana.
Ludhiana: Like previous years, Punjab Cultural Society organsied a perfect summer camp of cultural varieties at Punjabi Bhawan, Ludhiana.
The 25-days camp had started on July 1. 
The participants in the age group of 3 to 70 years participated in this camp. The participants gained a lot of knowledge about Punjabi culture.
The youngest female participant, namely Guribadat Kaur, was merely 3-year-old and she was the main attraction in the entire camp which presented different colors in Bhangra, Boliyan, Ghodiyan and Suhag. A boy named Prashanjit was also rocking in Bhangra.
Ravinder Singh Rangwal, Founder and President of Punjab Cultural Society said that this was the 16th camp. Apart from Punjab, these camps are conducted in Canada, USA and Europe. "Our main objective is to connect every age and every category with Punjabi culture", he said. 
Adding, he said the participants are trained in folk dances of Punjab such as Bhangra, Jhoomar, Malwai Giddha, Giddha Ludi, Sammi, folk songs, ghodiyan, suhaag, sithniyan, wedding songs, folk instrument such as tumbi, algoza, dhol etc. Besides, the participants 
learn about the colors of Punjab's heritage. International dholi Rakesh Yogi alias Bittu ustad was the dholi in this camp.
Rangwal said that those who are associated with folk dance and Punjabi culture used to stay away from drugs and bad company.
Punjab Cultural Society's secretary Rupinder Kaur Madhok, Advisors Kanwaljit Singh and Gurdeep Singh Deogan were instrumental in making the camp a success. 
In the closing ceremony, the students gave a very impressive presentation of the cultural aspects. 
Vikramjit Singh, Amandeep Singh Deogan, Rajwinder Singh Lal and Rachpal Singh awarded certificates to all the students. At the end, all the guests were thanked.