20 FARM LABORERS SCREENED AT MUDKI TOLL PLAZA BORDER BEFORE QUARANTINING THEM AT THEIR HOMES
FARM LABORERS STRANDED IN HARIYANA WAS RECEIVED BY THE ADMINISTRATION ON SATURDAY NIGHT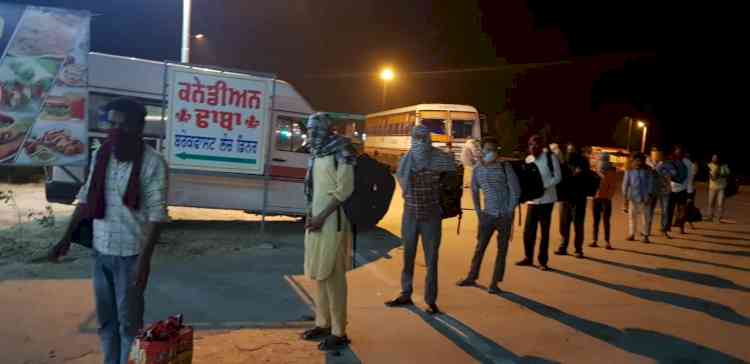 Ferozepur: District Administration has received 20 farm laborers of Ferozepur districts at 2 am on Saturday who was stranded in Hariyana amid the nation-wide lockdown imposition. Nayab Tehsildar Mr. Sukhcharan Singh Channi along with other officers received these residents.
 
Divulging the details, Deputy Commissioner Ferozepur Mr. Kulwant Singh said that special buses on Saturday night had brought 20 farm laborers belonging to Ferozepur district and the district administration received all of them at Mudki Toll Plaza. He further added that passengers were first screened for Coronavirus by the health department and then special vehicles were arranged to drop them at their homes in the different villages. 
 
The deputy commissioner added that all the returnees had to follow the 14-days mandatory quarantine period at their homes as a part of the protocol fixed by the state government. Mr. Kulwant Singh further added that the state government was committed to bringing back its citizens stranded in various states due to lockdown adding he said that the special buses were arranged to bring back all the residents stranded in Maharashtra, Rajasthan and other states. 
 
Mr. Kulwant Singh said that the state government was making all the necessary efforts to protect and bring back its stranded residents not only in India but in abroad as well. He said that the district administration has already launched an email ID [email protected] for its residents stranded abroad seeking their information so that coordinated efforts could be made to bring them back home.