2-day DBT sponsored national e- conference on Covid-19 Pandemic: Emerging challenges and future strategies
362 participants from 17 states of India participate in the conference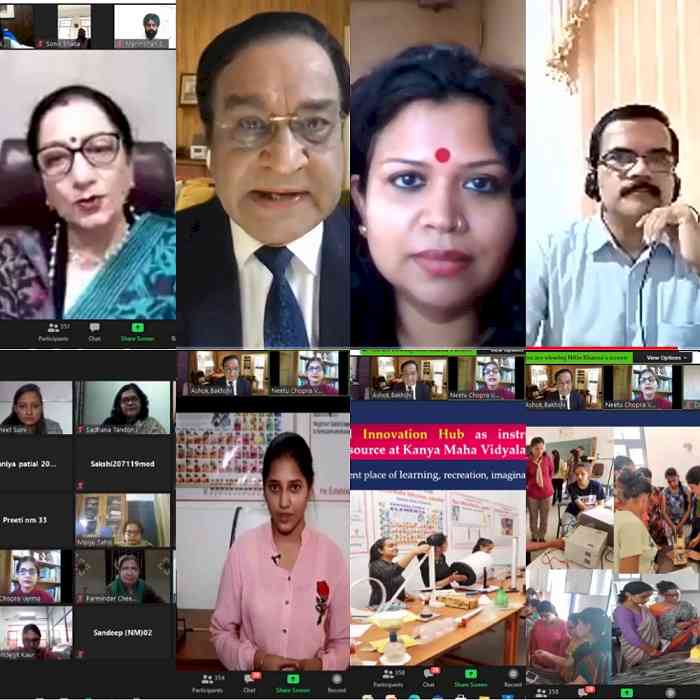 Jalandhar: Kanya Maha Vidyalaya organised Two Day National e-Conference on COVID-19 Pandemic: Emerging Challenges & Future Strategies under DBT Star Status and sponsored by Department of Biotechnology, Government of India. The conference was organised by the faculty of sciences of KMV. 

The conference witnessed the presence of academicians and erudite scholars from all over India.Total 362 participants from 17 states have participated in the conference. The chief guest for the inaugural session of the conference was Dr Garima Gupta, Scientist E & Programme Officer, DBT Star Scheme, Department of Biotechnology, Government of India. The conference commenced with the formal welcome of all the dignitaries by Principal Prof Dr Atima Sharma Dwivedi. Prof Dwivedi welcomed all the participants and averred that KMV is committed to provide quality based education to all the students. KMV is the only institute in the region that has organised multiple international & national conferences on various issues from time to time. Prof Dwivedi further maintained that KMV being an iconic institution have nurtured and have educated women who have changed the face of the world by their brilliant contribution and innovations. Further, introductory remarks were given by Dr. Neetu Chopra where she shared some activities performed in the college as student-student mentoring workshop, Anubhooti, youtube DBT star KMV channel, Innovation Hub etc. Then she welcomed the chief guest Dr. Garima Gupta, Scientist E and Programme Officer, DBT star scheme, DBT, New Delhi who presented the inaugural address where she shared her views regarding the effect of lockdown on the economy of the country. Further she explained about various facilities provided by DBT for the enhancement of education. The keynote speaker Prof. A. K. Bakhshi, Founder Vice-Chancellor, PDM University Haryana delivered his lecture on the topic 'Achieving Excellence in Science in India in the 21st century: Challenges and Opportunities'. He explained the role of a teacher in higher education. He told that the outstanding teacher must have some qualities as sound and deep knowledge, concept clarity, out of box thinker, innovative creator and communication skills. He differentiated very well the presentation and communication where the presentation is what you say it and communication as how to say. The Expert talk for the day was delivered by Dr. K.K. Ramachandran, Professor , Government Engineering College,  Thrissur, Kerala.Technical session I started with the virtual tour of KMV. Dr. Ramachandran's topic of talk was Higher Education- Revolution in Teaching and Learning triggered by COVID19. Dr. Ramachandran told that the system of online education is not new & emphasised that our education system must focus on student centric education so that we can produce more innovative minds. He compared the physical education with the online education and enlisted the benefits of online education. Dr Madhumeet was the moderator for the session. 

Principal lauded the efforts of Mrs Parminder Kaur, Mrs Manju Sahni, Mrs Sadhna Tandon and the whole organising committee for successfully organising this National e- Conference.