17-year-old boy working tirelessly for overall development of underprivileged children
Running an institute for underprivileged kids in the heart of Noida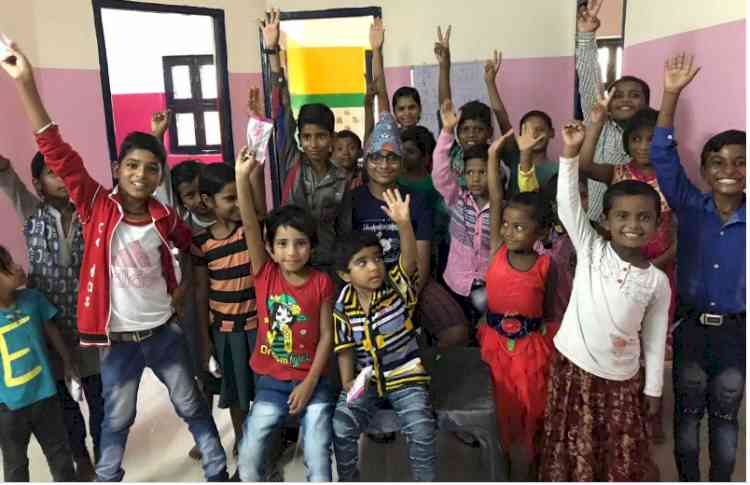 It's a difficult job for a 17-year-old boy who from the last 5 years is most delicately working on running school for poor children and has still been able to balance his life and score well.

Armaan Singh Ahluwalia student of class 12th at DPS RK Puram having a goal to bring world-class education to India by opening 1000 free schools for the poorest of poor which can truly remove inequality & provide opportunities to those who have never got a chance to get educated. He wants to remove illiteracy, poverty, and Child abuse by providing free education.
Armaan started an education centre that could specifically cater to the poor section of the society. His mother, seeing his innocence and the keenness, decided to support her son in this noble cause. So, while kids of his age spent time relaxing and playing after their school, Armaan put efforts into developing this small space that now teaches more than 200 street kids. He Named his dream as 'Apne' - a learning centre located at a prime location in Noida.
At 'Apne,' 30- 40 students come daily and this number rises up to 50 on weekends when Armaan and his family spend five to six hours teaching them. His students call him "Teacher Bhaiya" who doesn't just share his food and pocket money with them but also discusses everyday experiences to make learning an interactive two-way process. During lockdown also, Armaan and his family ensured that all these students get their meals on time, know the importance of social distancing, provided them masks, soap sanitizer, etc.       

Armaan says, "I absolutely love the company of these kids. I think the school is truly changing their lives as the attendance is ever-increasing that has even encouraged us to exceed the building up to three-floor." Now he wants to open a series of free schools for underprivileged kids in order to provide them free education and fulfil their basic needs of life. 

At this young age, Armaan has been selected by Harvard to pursue a pre-college program. Perhaps Harvard recognized his efforts, and he was chosen to be amongst the very few students across the world to get into the college program of Harvard to earn college credits by studying Economics.

He is specializing in Economics and is presently pursuing a college program for high school students to earn eight credits with Harvard besides doing his 12th from DPS RK Puram. His efforts are to become an economist and bring substantial change in the Indian Economy by making it the strongest.

Working tirelessly, Armaan has given his most important years of life to the society to make a bit of difference. It is difficult to work on a social project while studying in school. His schedule demands almost 17 hours of social service and studies at school.

His mother, Dr. Tarvinder Kaur Ahluwalia, says that she's extremely proud of her son. She gives her undivided attention and time to this initiative, takes care of food, uniforms, and other requirements when Armaan is busy in his studies. 

He is still happy to find that he has brought smiles on the face of few.