16th Mohan Lal Bhaskar Art and Theatre Festival held on Sunday
Audience enthrals at All India Mushaira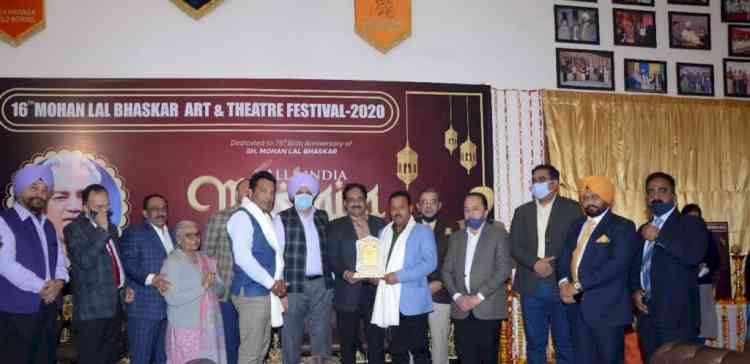 Ferozepur: The Audience was enthralled at All India Mushaira, the prime feature of the 16th Mohan Lal Bhaskar Art and Theatre Festival held on Sunday Evening at Vivekananda World School, Ferozepur, to mark the 78th birth anniversary of Sh. Mohan Lal Bhaskar.
The arena was packed with distinguished guests hailing from different regions and all walks of life.
Meanwhile Mrs.Prabha Bhaskar, Patron-in-Chief MLB Foundation, Janab M. Faiyaz Farooqui,IG (PAP), Jalandhar, S.Gurpal Singh Chahal, IAS, DC Ferozepur, S.Bhupinder Singh, PPS, SSP Ferozepur, Sh.Lakhbir Singh, PPS, AIG Vigilance, Punjab, Sh.Amit Gupta, PCS, SDM Ferozepur, Sh. Varinder Mohan Singhal, CA & Chairman Genesis Institute of Dental Science & Research, Ferozepur, Dr Kamal Baghi, MD, Anil Bhagi Hospital and Sh.Sushil Mittal, Director Bhagwati Lacto Private Limited, Ferozepur lit the lamp the lamp to pay tributes to Late Sh.M.L.Bhaskar.
Meanwhile Dr.S.N.Rudra, Director VWS, on behalf of MLB foundation welcomed all the guests while Gaurav Sagar Bhaskar, Chairman Vivekananda World School, Ferozepur, also addressed the august gathering.
It is worth to mention that the event was organized in the memory of former Indian spy in Pakistan, Mohan Lal Bhaskar, who, while working as an agent with Indian security agencies, intruded into Pakistan sixteen times, but was held on the 17th as a double-cross agent ditched him. He was awarded death sentence by a Pakistani court, but the higher court reduced it to fourteen years of imprisonment and he was repatriated under the Shimla agreement on December 9, 1974. Later on, he narrated his experience in various jails of Pakistan in an autobiography `Under the Shadow of Bayonets and Bars' which was awarded Saansad Sri Kant Verma National Award in 1989. The book was published in ten languages.
In the meantime Mohan Lal Bhaskar Foundation honored Dr Subash Parihar (Lifetime Achievement Award) for his excellent contribution in the field of Literary, Mr Rakesh Aggarwal (Social Work), Corona Warrior and Mr Santokh Singh (Social Work) Corona Warrior for their selfless job during pandemic times while Dr Surjit Singh Sidhu was conferred with MLB (Education Award) for his exemplary contribution in encouraging higher education a rural area.
Meanwhile Eminent poets Janab Khushbir Shad Shamil Sadaayien Dil Bhi na ho, Saaj k siwa, Nagma kya bachega fir awaaz k bina"
Janab Ritaz Maini recited
"Gire kis rah par sambhala kisne yad rkhty hai, hum apni bukh ka niwala yad rkhty h",
Janab Varun Anand recited
"koi misaal nhi hai meri misaal k bad, mai bekhyaal hua hun tere khyaal k bad",
Janab Fayaaz Farooki recited "Ghar jo bharna ho to rishwat se bhar jata hai, haa magar is se duaon ka asar jata hai ",
While other poets including , Janab Moin Shadab, Janab Rajesh Mohan, Janab Varun Anand, Janab Faiyyaz Farooqi, Janab Charagh Sharma and Janab Amardeep Singh spellbound the audience.
Prof. Gurtej Koharwala, Mr. Jhalkeshwar Bhaskar, Mr. Meher Singh Mal, Mr. Harsh Arora, Mr. Amarjit Singh Bhogal, Mr. Aman Deora, Mr. Ajay Tuli, Mr. Amit Dhawan, Mr. Harmeet Vidyarthi, Mr. Santokh Singh, Mr. Shalinder Bhalla, Mr. Ankur Gupta, Mr. Charanjit Sharma, Mr. Vipan Sharma, Mr. Paramveer Sharma, Mr. Kuldeep Sharma besides other dignitaries graced the occasion.